Welcome to the world's most trusted route discovery, planning, and navigation platform! This Quick-Start Guide for Mobile will cover everything you'll need to get started using the Ride with GPS mobile app on iOS and Android — from route discovery basics like the Explore and Inspect tools to the flagship features of our Mobile Route Planner to downloading Offline Maps and syncing routes to your connected devices so you can stay focused on what's important — enjoying the ride!
Table of Contents
---
Free Global Heatmap: the Best Rides, in Real Time
The Ride with GPS Global Heatmap aggregates publicly-logged ride data from our entire community of riders. These rides are illuminated as 'heat' within any of our 10 map style overlays, toggling on and off easily in the mobile app and on the web. It's simple – the darker the red heatlines, the more heavily-traveled a road or section will be.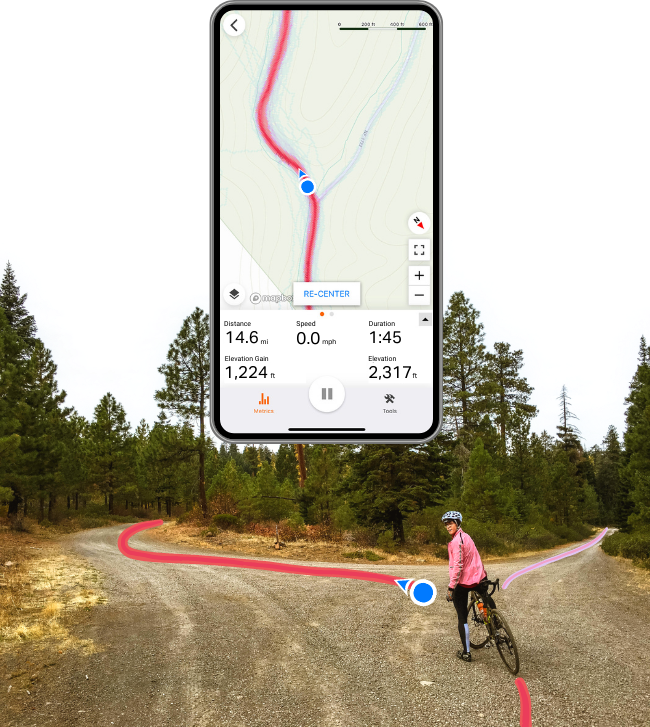 Ride Like a Local Anywhere in the World
Our Global Heatmap shows you where the action is by highlighting in red where others are riding. Grounded in the belief that local riders know the best terrain, heatmaps can tip you off to the best routes, must-see roads, and local hotspots across the globe. Knowing where others ride (or don't ride) helps to make informed route planning and navigation choices.
Using the Global Heatmap
While recording your next ride, toggle on the Global Heatmap to check for hotspots nearby.
Start recording a ride using the Record button.
Tap the Map Layers icon
Toggle the Global Heatmap on.
While all membership levels are able to access the Global Heatmap, each strata differs in its level of access.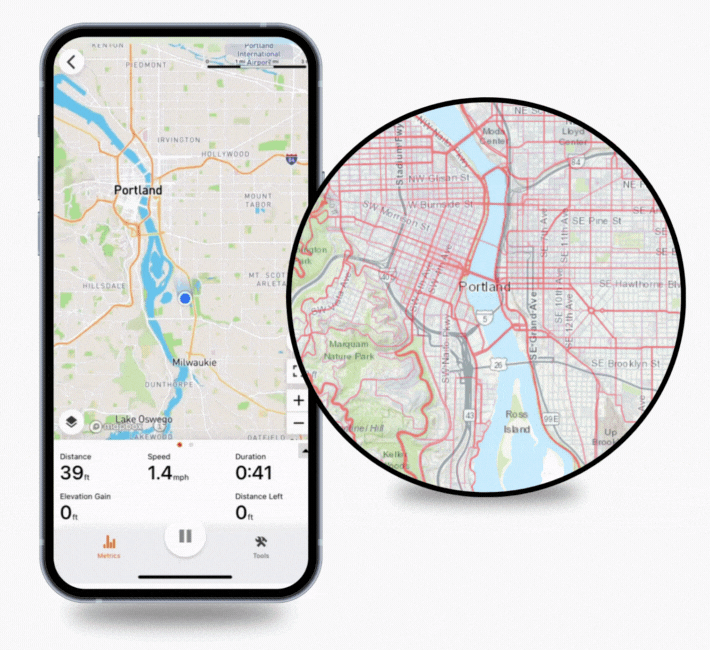 Starter accounts can access the Global Heatmap while recording a ride.
Basic members have heatmap access in recording mode, while using the Mobile Route Planner or viewing rides and routes in the app.
Premium memberships can access while recording, planning or viewing rides and routes in the app and on the web.
Customize Your Metrics
While recording a ride or navigating a route, Ride with GPS offers 10 customizable in-ride metrics. Split between two swipe-able displays of 5, data fields can be personalized with your favorite ride stats. Select from a menu of 25 custom metric options including speed, distance, pace, elevation, navigation and paired sensor and monitor displays.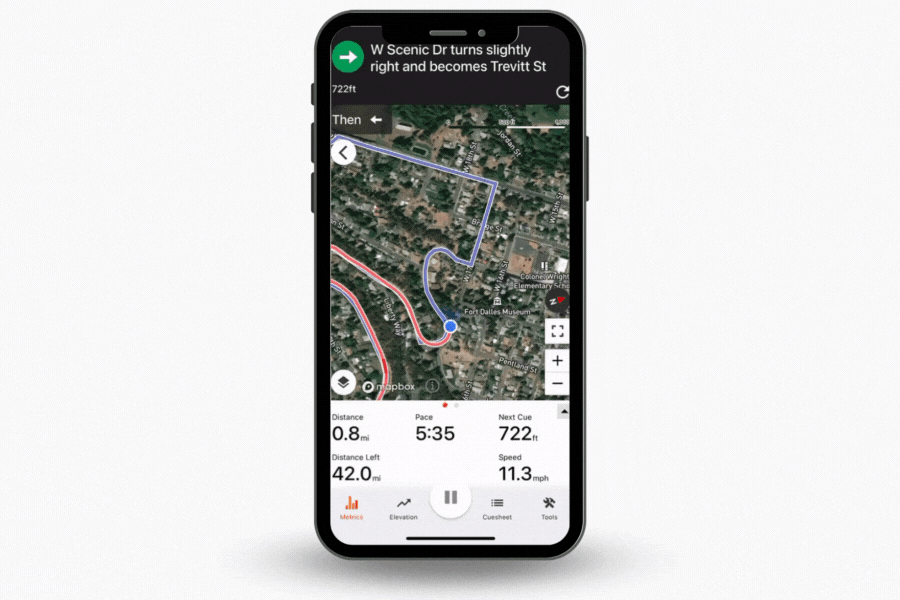 Personalize Your Ride Experience
Press and hold any of the visible data fields for a menu of available options.
Select your desired metrics to customize all 10 available data fields.
*Note that heart rate monitor, power, and cadence sensor fields will require paired Bluetooth sensors to display data properly. Refer to our guide on Bluetooth connectivity for pairing and setup details.
Ride with GPS offers 10 different map types while viewing, navigating, and planning routes. The various map styles highlight different visual information within the terrain, geographical features, place names, and services. Toggling between map styles like OSM (Open Street Maps), topo or satellite view can be very helpful when planning and viewing routes.
To change map type, tap the Map layers icon in the lower left corner of the map in the mobile app, then select the desired map style from the menu. Note that all of these display in conjunction with our Global Heatmap overlays.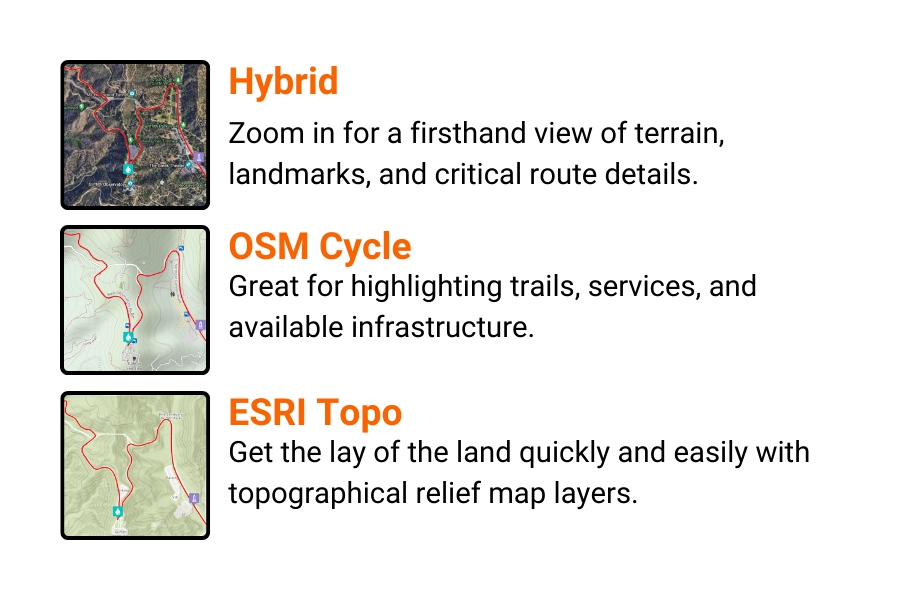 Bluetooth Connectivity
Train smarter and extract more data from your rides by pairing your favorite power meter, heart rate monitor, speed and cadence sensors to the Ride with GPS mobile app. Track performance metrics and training progress with accurate, reliable data. The Ride with GPS mobile app easily pairs with standard Bluetooth sensors and is fully compatible with Apple Watch devices. Pair with Bluetooth earbuds or speakers for turn-by-turn audio navigation cues.
Heart rate monitor, power, and cadence sensor fields can be customized according to preference within your metric displays. Refer to our guide on Configuring Metrics for display and setup options.
Interval Alerts
Do you want to keep tabs on your pace every 5 miles or check your elevation gain at hourly intervals? Alert settings can be configured to deliver voice notifications at time or mileage intervals of your choice. Choose from a range of metric options including Average Speed, Distance, Elevation, Pace, Current Time or data averages from connected Bluetooth sensors.
Ride with GPS integrates seamlessly across all of your GPS devices and hardware — your favorite head units from Garmin, Wahoo, and Hammerhead to wearables like Apple Watch. Ride safely with the peace of mind knowing that Ride with GPS is the only 3rd party app compatible with Garmin Varia radar units, notifying you of approaching traffic with audio and visual alerts in the app.
Sync Your Favorite Device
Ride with GPS routes will sync wirelessly to your Garmin and Wahoo devices. Garmin Edge users can simply pin routes on the web or in the mobile app to sync to the Garmin Connect companion app. Doing so will sync your pinned routes to your connected Garmin Edge devices. Wahoo users will also sync by pinning routes within your account on the web or in the mobile app. Routes pinned in your Ride with GPS account will appear under Starred Routes on your Wahoo device. Once your ride is completed and saved, sync again and your activity will appear in the Rides tab of your account and will be reflected in your career stats and Personal Heatmap.
Find the perfect route — whether you're looking for gravel, pavement or mountain bike trails, Ride with GPS gives you access to the best cycling routes anywhere in the world. Planning a trip in a distant location? Open up the Ride with GPS mobile app and start exploring routes across the globe or out your front door.
Explore the Best Cycling Routes Anywhere in the World
Use the EXPLORE tool to hone in on the perfect route for any criteria. To search, simply pan and zoom to start exploring routes in the area desired. Tap Search this Area to reveal the top 10 routes with start locations within your current search window. Search routes by name or start location then filter your results by length, elevation, riding surface, and route type to dial in your results. Pin routes for easy access when you're ready to start riding.
Filter to Narrow Your Results
Once you've landed on an area to explore, filter down your results to see only routes within your specified criteria. Use the filters to dial in your results by route length, elevation gain, surface type, and even choose between loop, out-and-back, or point-to-point route profiles.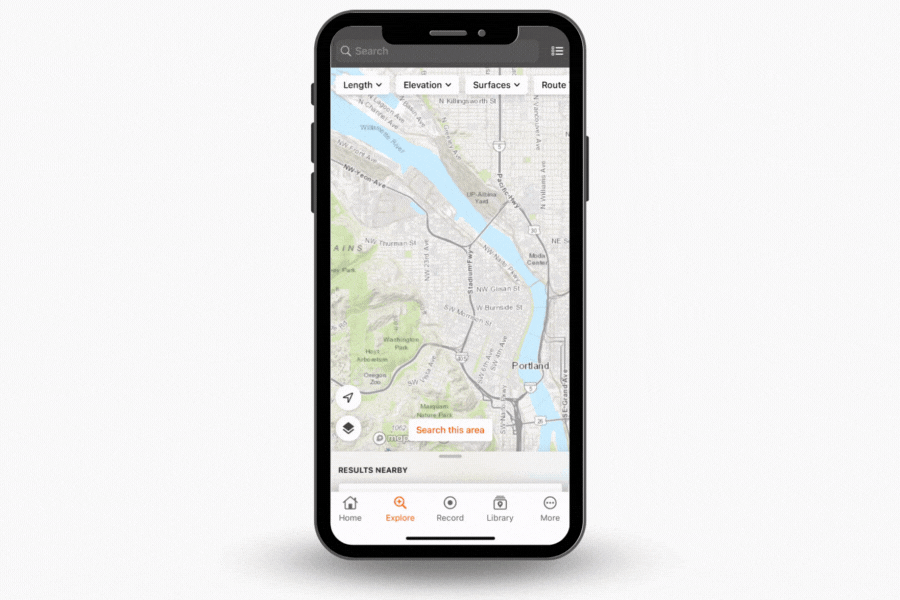 Spend Less Time Searching with the Inspect tool
Refine your search capability using the Inspect tool — long-press anywhere within the map to find the best routes and rides passing through a precise point. Use Inspect in conjunction with the Global Heatmap to discover the top routes and rides that utilize a specific road, trail, or intersection.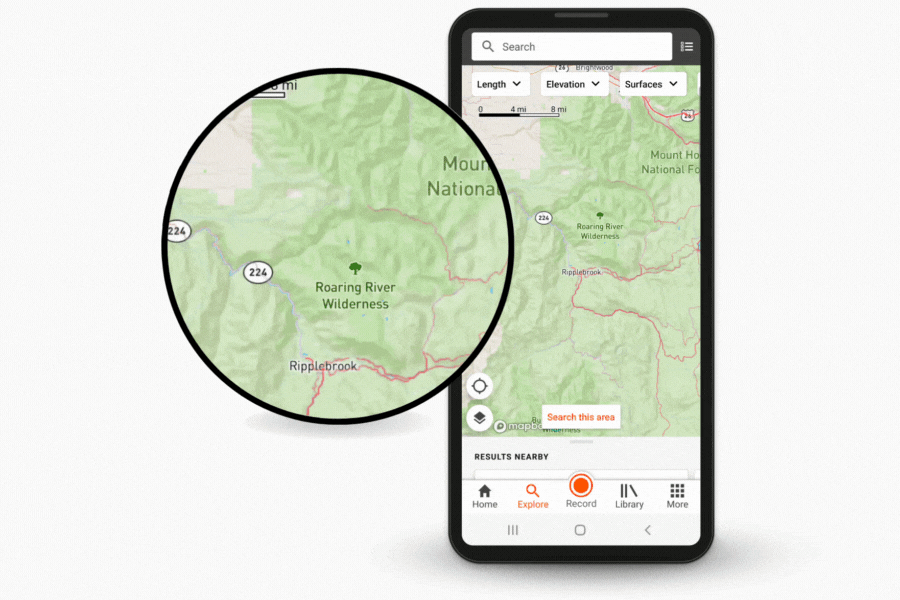 Pin It For Easy Reference
Just browsing? Pin routes and rides to bookmark for easy access later. Pinned items can be found within the Pinned tab of your Library and are always accessible in the mobile app and on the web. Pinning is also the easiest way to activate the sync process to your GPS devices. For details, see our help pages on syncing your Garmin and Wahoo devices.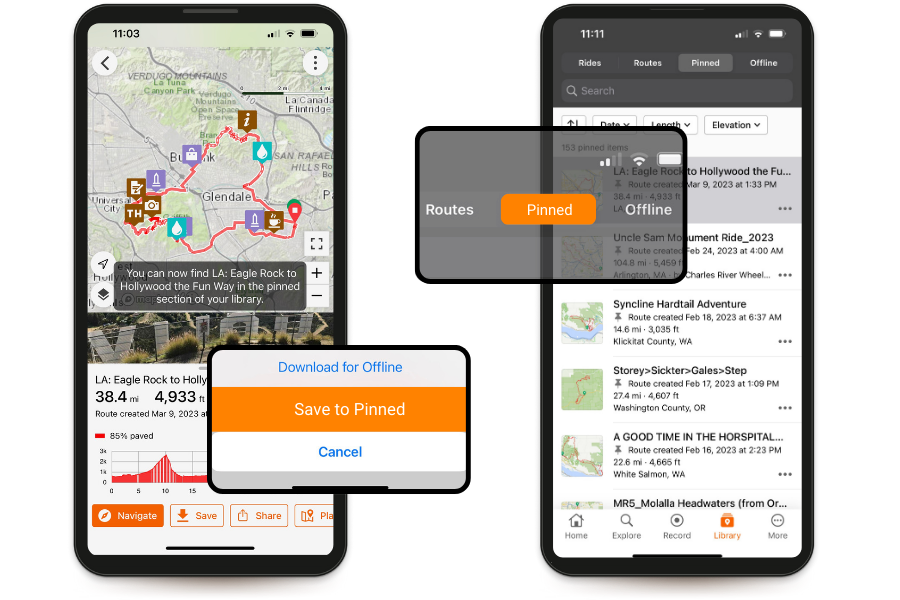 One tap is all you need to get going. Anticipate upcoming turns, intersections, and waypoints using turn-by-turn Voice Navigation in the Ride with GPS mobile app. Keep your ride on track with audible and visual cues to guide the way. Miss a turn? Don't worry, you'll receive alerts from the app with Off Course warnings and directional notifications back to your course. We'll even continue to serve up cues over your phone's locked screen so you get from Point A to Point B without missing a beat.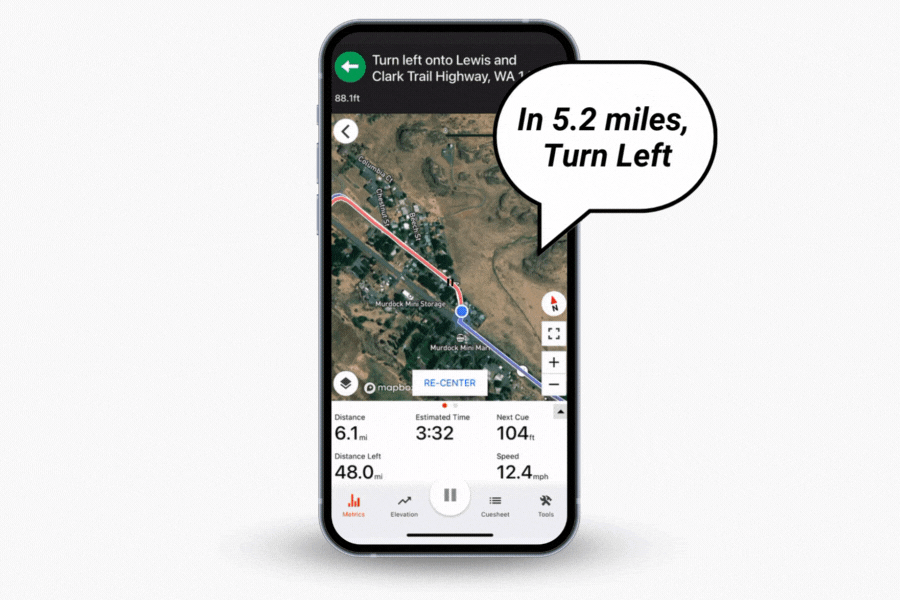 No Signal? No Problem
Enjoy the freedom to roam beyond the range of network connection using Offline Maps. Because GPS works regardless of your phone's data connection, you can navigate fully off the grid in airplane mode. Access downloaded routes in the Offline section of your library. Save data, extend your phone's battery life, and enhance your peace of mind in the backcountry using Offline Maps. Check out more battery-saving tips here.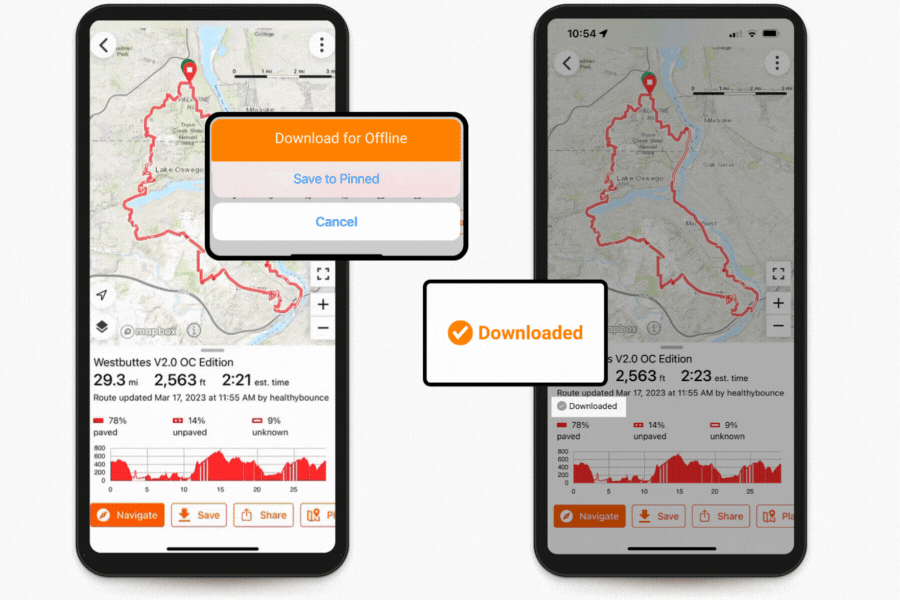 Whether you are navigating, planning, or simply viewing routes, our Estimated Time feature prepares you for the road ahead with highly personalized ETA's based on your historical ride data. **Heading out to ride but need to be back for dinner? Now you can predict how long any route — or section of a route — is going to take with reliable precision.
View your Estimated Time while:
Navigating — while navigating, Estimated Time is based on your current ride — whether that is fast or slow — with a realtime ETA, allowing you to adjust your ride and pace accordingly. You can also tap along the elevation profile in the mobile app to see your Estimated Time to any specific point along the way.
Planning — as you create and edit in the Route Planner, Estimated Time updates using your personal ride data so that you can adjust mileage and adapt your plans to finish on time.
Viewing a Route — whether viewing routes in your own library or items created by other users, the Estimated Time will be personalized using your own ride history. ****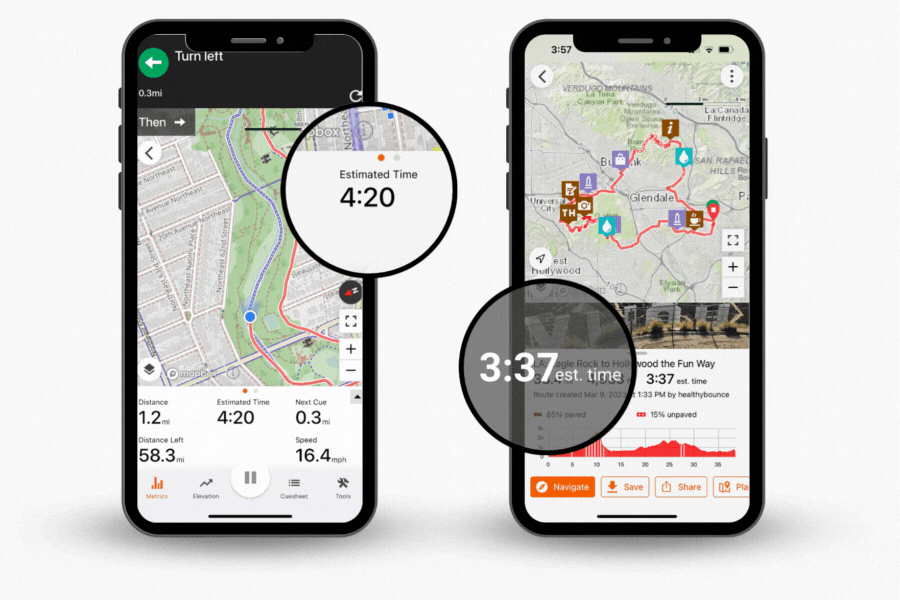 Estimated time works both on the web and in the mobile app. Whether planning routes from scratch or editing existing options, the mobile route planner offers you the best-in-class platform for creating, modifying, and sharing custom routes on the go.
The Mobile Route Planner is a powerful tool for creating and modifying routes on the fly. Quickly sketch and share route ideas or edit your existing plans on the go. Or you can simply plug in a destination and let our routing algorithm do the rest. Plan, save, and sync to your GPS devices right from your phone. Whether you're sketching out a quick line across town or rerouting a multi-day tour, the Mobile Route Planner puts all the power of the Ride with GPS platform in the palm of your hand! For additional details on the Mobile Route Planner, visit our help page.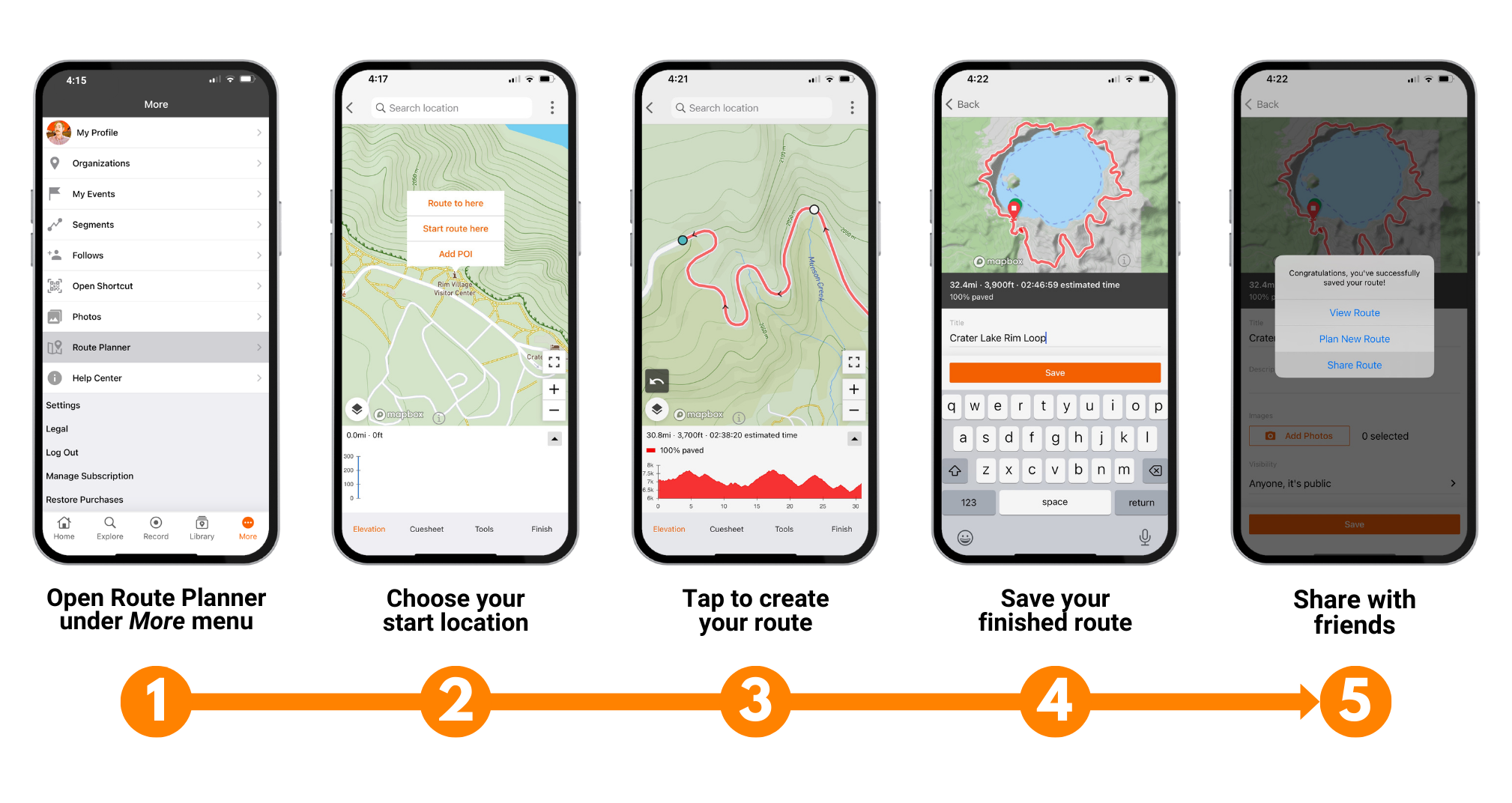 With safety in mind, Live Logging allows you to share your real time location and completion ETA with family and friends, so they'll always be in the loop. Stay connected to your community with live photos and commenting to cheer on your effort!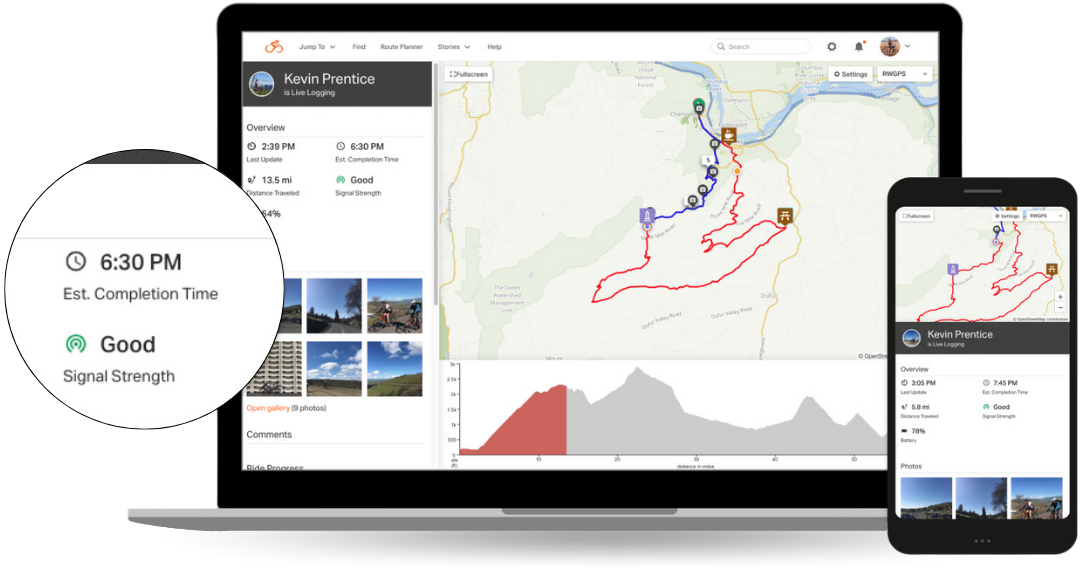 Real Time ETA for Friends and Family
Need to be home for dinner by six? By Live Logging your ride, your loved ones are able to check your location in the event of delays or an untimely mechanical. While navigating, your estimated time is responsive to your current pace, giving you the peace of mind that your friends and family are always in the know. Live Logging can be activated while recording a ride or navigating a route.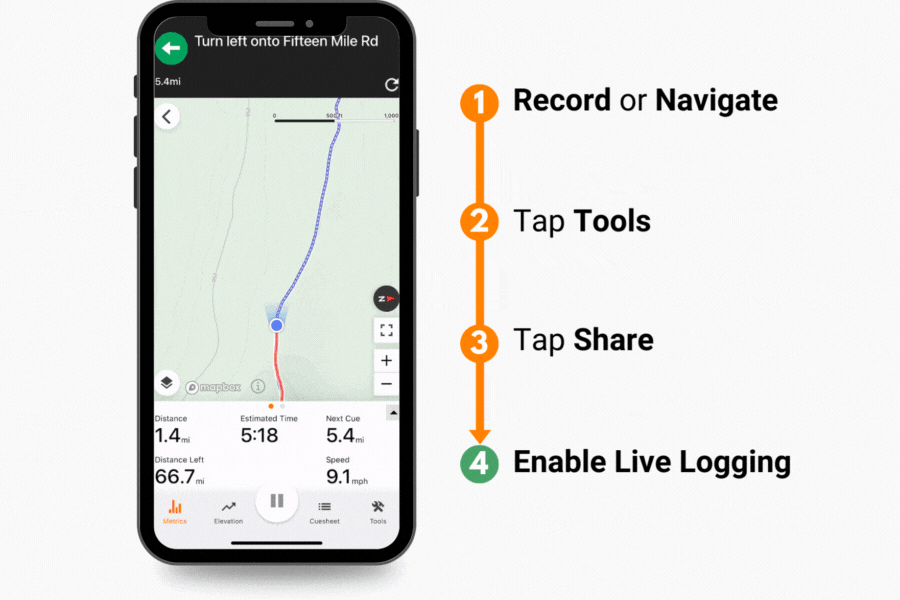 For additional details on Live Logging, be sure to visit our help page.
Grow Your Personal Library
As you record activities, discover, plan, and save your own routes, you will begin to build out and grow your personal Library. Toggle between tabs to access your route catalog, reference specific rides and manage your pinned and offline selections. Each of these sections has their own set of filters which allow sorting of items by date, length, elevation, privacy status and more.
Your mobile Library will be organized using the following tabs:
Rides: activities recorded in the mobile app or synced from a connected device. Each time you finish and save a ride, they will show up under your Rides tab.
Routes: planned courses containing cues for navigation that you have either created and saved or copied from other sources.
Pinned: your pinned items are bookmarked for easy access. Pinning also activates the sync process for your connected GPS devices.
Offline: these will be all of your routes manually downloaded for offline navigation.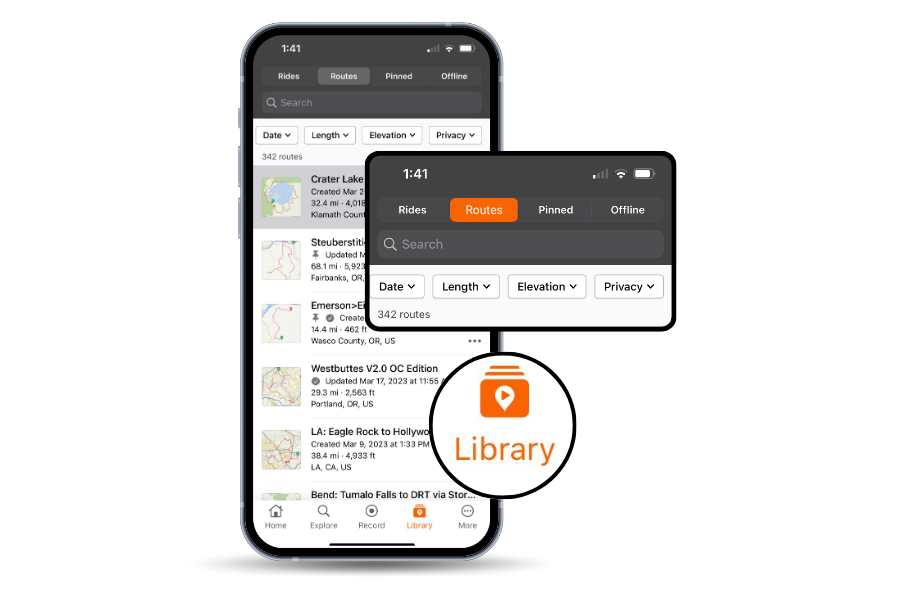 Share the Experience
Your rides are so much more than just metrics. Ride Reports make it easy to create and share beautiful, captivating stories of your two-wheeled adventures, including interactive maps, photo collages, and other storytelling tools to help you share your experiences. If a ride is saved with one or more photos, a Ride Report is auto-drafted with photos, maps, and auto-detected climbs — all you have to do is fill in your story and publish!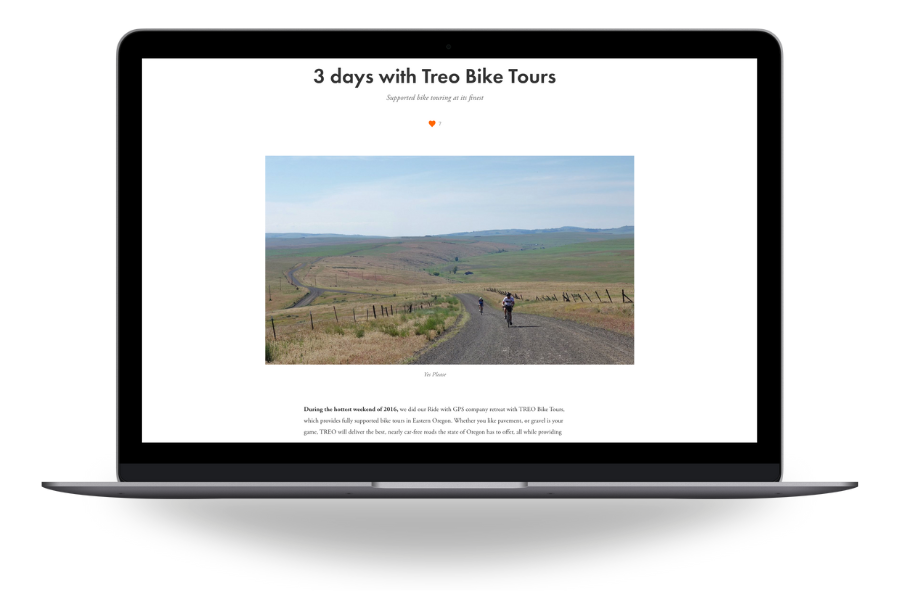 Inspire Your Next Ride
In addition to sharing your own stories, our featured Ride Reports represent a rich cross section of shared experiences from Ride with GPS members around the world. Get the firsthand scoop on epic bikepacking adventures, iconic gravel rides, randonneuring circuits, and all manner of fresh inspiration from our rider community across the globe.
Add Photos to your Ride
Share your experiences in rich detail by adding photos to your routes and rides. When saving in the mobile app, use the Add Photos prompt and all uploaded photos will be geolocated to the precise positions they were taken within the route. Didn't record using the mobile app? No problem! In the mobile app, photos can be uploaded directly to any route or ride activity by using the Add Photos option under the Edit Details menu (found within the three-dot menu in the upper right corner of any route or ride page in the mobile app).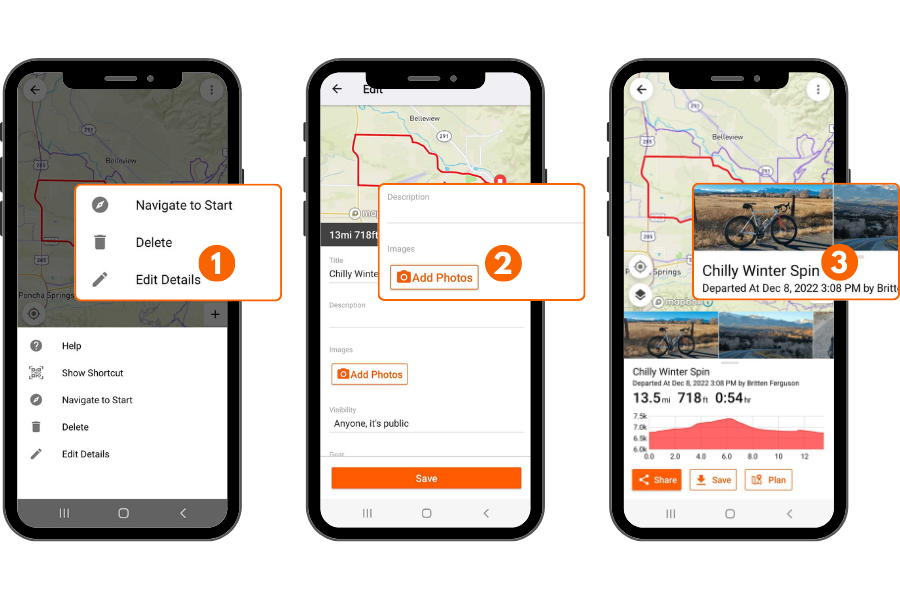 Using the Web Application
In addition to the mobile app, you can also access your pinned items, full library of routes, rides, collections and more on the web. The website and mobile app work seamlessly together to provide you with the premiere toolset for discovering, creating, and organizing your cycling life.
Personalize Your Experience
Now that you are plugged into our extensive community of riders, you can connect with new and existing friends, view your feed, create and share routes. Find a route you like but have specific questions? Send the route creator a message, drop a comment and join the conversation. Add a photo and bio to let folks know who you are. Build out your profile by adding bike details and personal stats, which will help to calculate your ride metrics.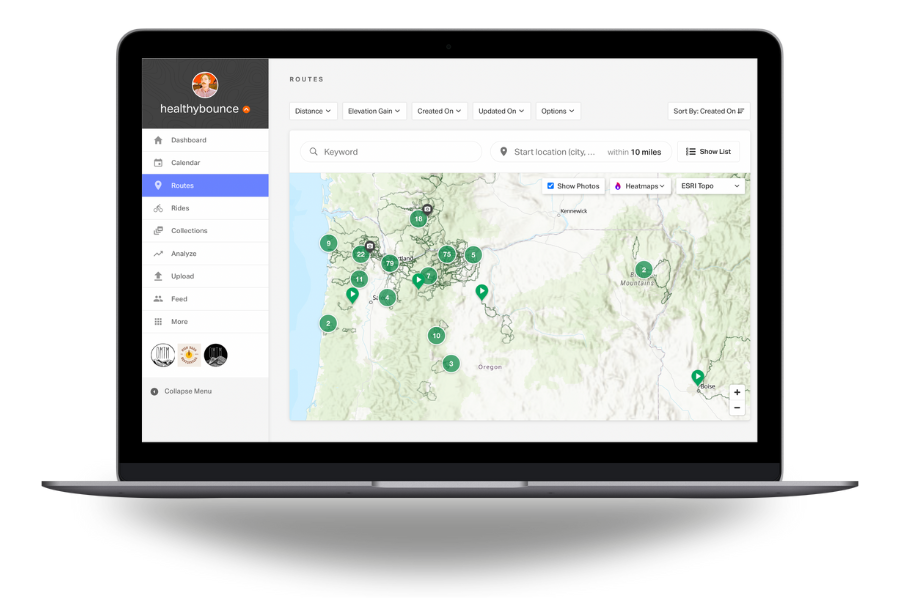 Migrate Your Data
If you're switching from another platform or simply adding Ride with GPS to your existing cycling and fitness ecosystem, you can easily migrate and upload your historical ride data directly to your account.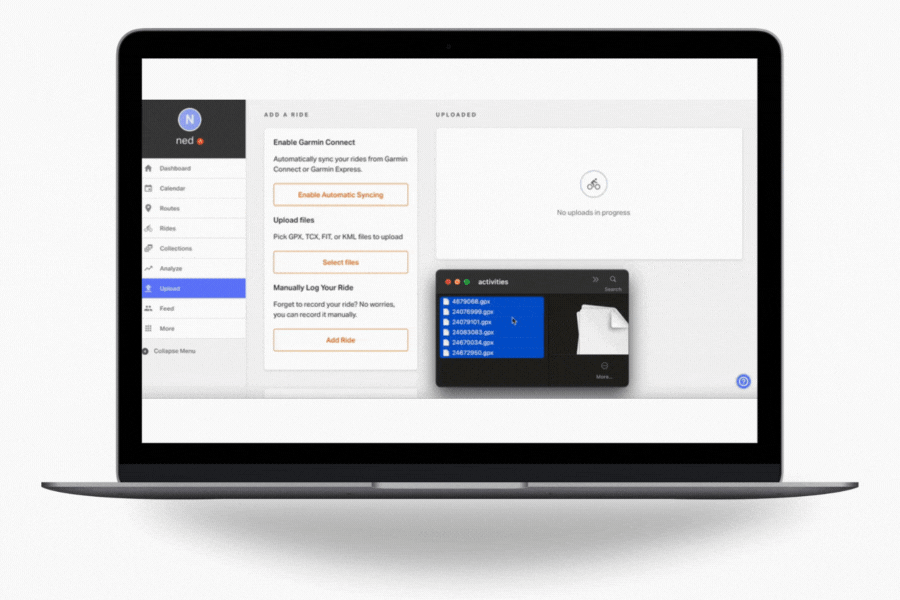 Integrated Services
You can also configure your Ride with GPS account to share data with services like Strava, Garmin Connect, Wahoo ELEMNT, EpicRideWeather, Relive and any number of additional companion apps, third-party networks, utilities, or extensions.
Privacy Matters
Your privacy is important to us, which is why we offer a full range of privacy settings for your routes, rides and associated data. All routes and rides can be set to either Public, Private, or Friends Only status. Rides and Routes saved as Private or Friends Only can still be shared with others and accessible using a direct link with a privacy code. Our Global Heatmap data is only compiled using publicly-logged rides, any rides set as Private will not be included. Additionally, the data comprising your Personal Heatmap is only visible to you.
Setting Privacy Zones
Privacy zones allow you to set a radius around sensitive areas like home, work, and school through which your recorded rides will not display publicly. You'll be able to see your full ride while recording, but others will not be able to see any sections passing through your Privacy Zones.
For more on your Ride with GPS privacy settings, visit our help page.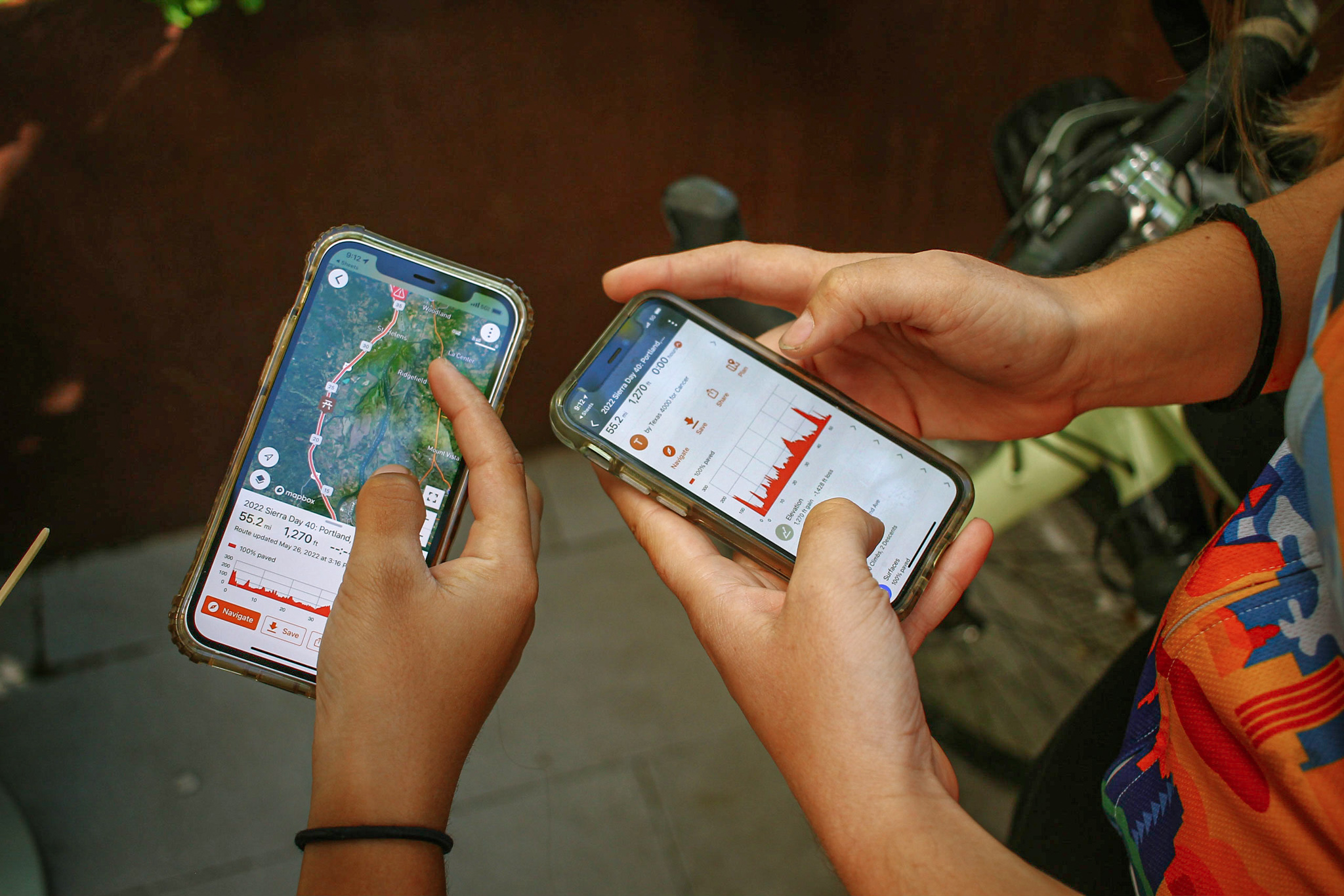 Now Let's Get Out & Ride
With Ride with GPS' robust discovery, planning, and navigation platform to power your journey, you join an inspired community of riders, routebuilders, and adventurers committed to sharing and growing the world's largest collection of routes. All it takes is opening up the Ride with GPS mobile app to start exploring routes across the globe or out your front door.
Start your free 7-day Premium trial today!
Get 1:1 Support
Learn better by doing? Book a 30 minute video chat with our Customer Success Team and get all your questions answered.
And as always, at any point feel free to shoot us an email at info@ridewithgps.com for further assistance from our stellar support team.