A Basic membership unlocks an upgraded suite of tools through the Ride with GPS mobile app. Your Ride with GPS account syncs seamlessly to provide you with a superior experience whether you are planning your next adventure, tracking your stats and ride history, or simply riding across town. Upgrade to Basic for an expanded menu of discovery, planning, and navigation tools so you can focus on what's important – enjoying the ride.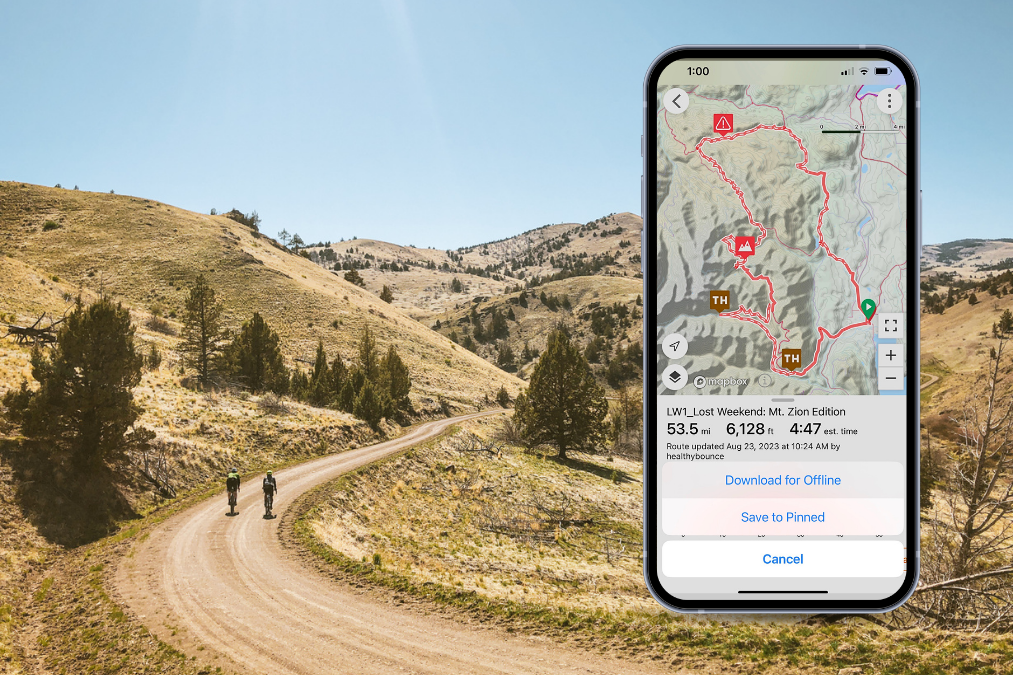 Ride Like A Local – Anywhere in the World
Unlock the power of the Ride with GPS community through the mobile app. By aggregating millions of publicly-logged rides from our community, the Global Heatmap shows you where the locals ride, highlighting popular cycling routes so you know which way to go when you reach that inevitable fork in the road.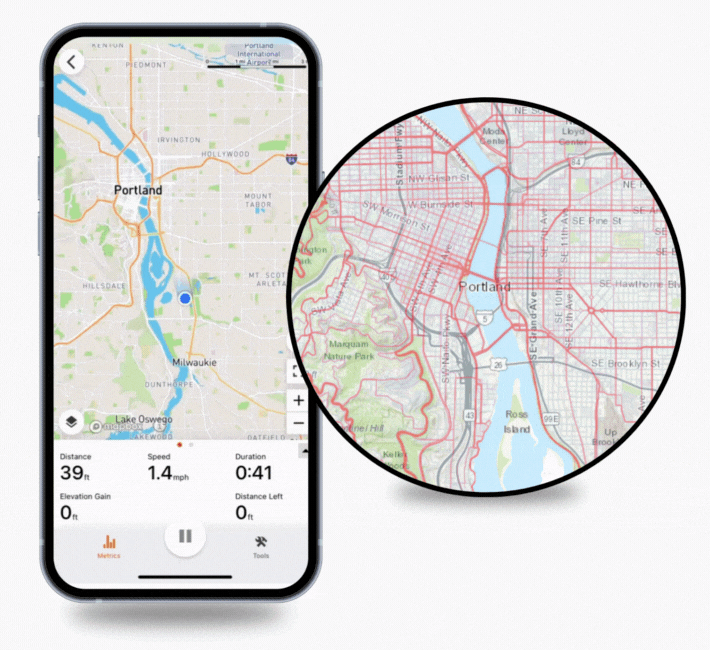 Turn-by-Turn: Navigation Made Easy
| | |
| --- | --- |
| One tap is all you need to get going. Anticipate upcoming turns, intersections, and waypoints using turn-by-turn Voice Navigation in the Ride with GPS mobile app. Keep your ride on track with audible and visual cues to guide the way. Miss a turn? Don't worry, you'll receive alerts from the app with Off Course warnings and directional notifications back to your course. We'll even continue to serve up cues over your phone's locked screen so you get from Point A to Point B without missing a beat. | |
No Signal? No Problem!
Enjoy the freedom to roam beyond the range of network connection using Offline Maps. Because GPS works regardless of your phone's data connection, you can navigate fully off the grid in airplane mode. Access downloaded routes in the Offline section of your library. Save data, extend your phone's battery life, and enhance your peace of mind in the backcountry using Offline Maps.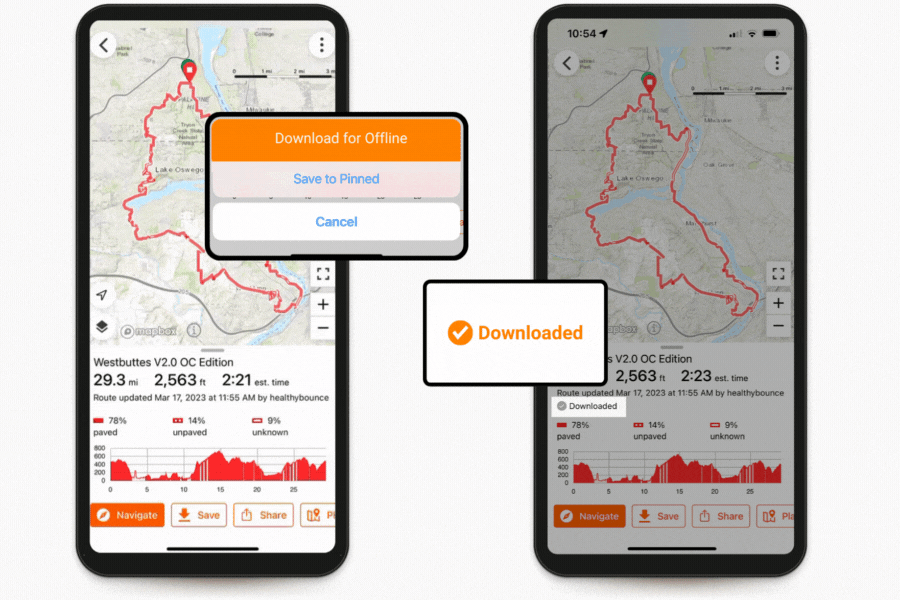 Plan & Share Routes on the Go
The Mobile Route Planner is a powerful tool for creating and modifying routes on the fly. Quickly sketch and share route ideas or edit your existing plans on the go. Or you can simply plug in a destination and let our routing algorithm do the rest. Plan, save, and sync to your GPS devices right from your phone. Whether you're sketching out a quick line across town or rerouting a multi-day tour, the Mobile Route Planner puts all the power of the Ride with GPS platform in the palm of your hand! For additional details on the Mobile Route Planner, visit our help page.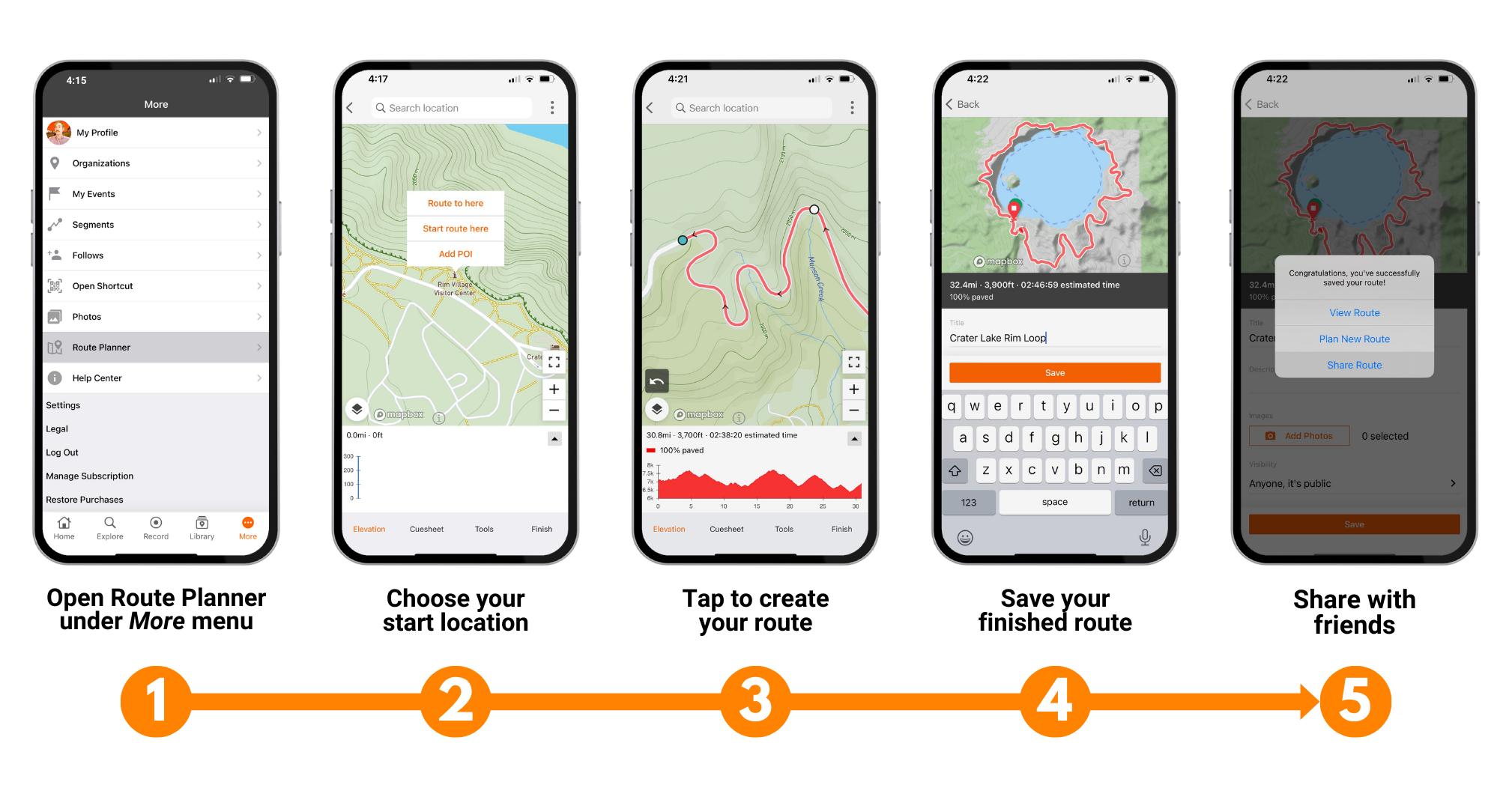 Discover the Perfect Route

Use the mobile Explore tool to hone in on the perfect route for any criteria. To search, simply pan and zoom to start exploring routes in the area desired. Tap Search this Area to reveal the top 10 routes with start locations within your current search window. Use the filters to dial in your results by route length, elevation gain, surface type, and even choose between loop, out-and-back, or point-to-point route profiles.
Spend Less Time Searching with Inspect
Refine your search capability using the Inspect tool — long-press anywhere within the map to find the best routes and rides passing through a precise point. Use Inspect in conjunction with the Global Heatmap to discover the top routes and rides that utilize a specific road, trail, or intersection.
No Cuesheet? No Problem!
Mobile Auto-Trace packs all the power of our popular web utility right into the mobile app. With one tap, you can convert a ride – either a recorded ride or existing route with no cuesheet – into a navigable route that is ready to roll. Right from your phone.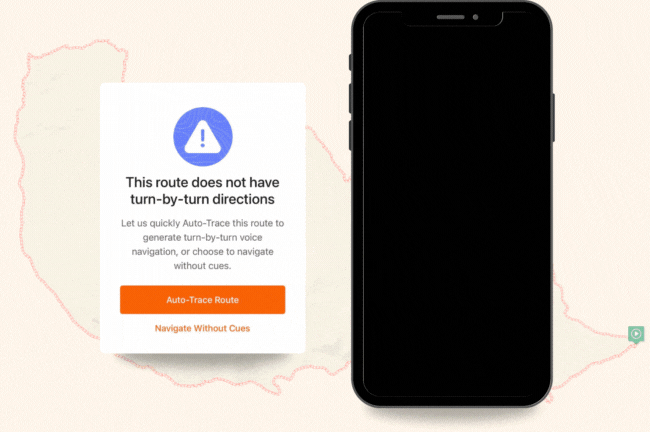 Real Time ETA for Friends and Family
Need to be home for dinner by six? By Live Logging your ride, your loved ones are able to check your location in the event of delays or an untimely mechanical. While navigating, your estimated time is responsive to your current pace, giving you the peace of mind that your friends and family are always in the know. Live Logging can be activated while recording a ride or navigating a route.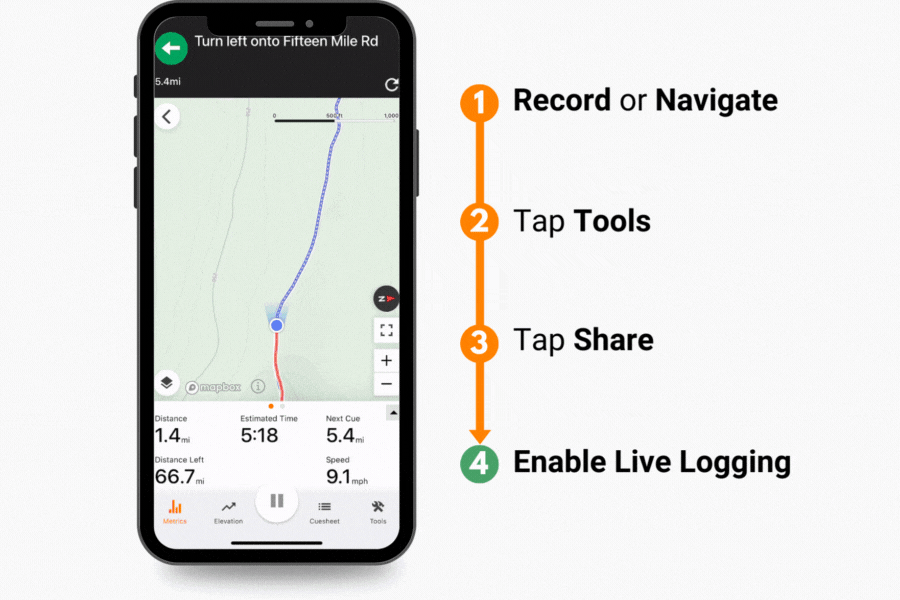 Unlock the Mobile App
Explore popular routes nearby, or a create your own in the mobile route planner. Receive turn-by-turn voice navigation to help keep your eyes on the road; download your route for offline use in remote areas and in to save battery while in airplane mode. Stay connected with friends and family during your ride with live photos, location tracker, and comments using the Live Log feature.
Enhanced Ride Support
Whether you are a route planner, event organizer, casual navigator, or a bike tech aficionado, we've got the toolset for you. We offer a range of upgraded features to help you along your cycling journey - from start to finish. Enjoy the ride!
World-Class Support
Shoot us an email at info@ridewithgps.com
or set up a 1:1 with our success team.