Use Explore Nearby Routes in the Route Planner to set the stage for planning your next great adventure. Access the community route library to get inspiration for building your route, or customize something you find to your specifics. Get turn by turn navigation on the route from the Ride with GPS mobile app or your favorite device.
---
---

Open the Route Planner
to start planning your next route.
With a blank screen, or a route already loaded in the planner, right-click (or two-finger click on Mac) in an area you'd like to search. Choose Explore Nearby Routes.
View the results cards on the left side of the route planner. Switch between the Community data, and your personal rides and routes from the top of the panel. Add filters to hone in on your desired length, elevation gain, and surface type. Hover over the different cards to highlight the corresponding route on the map.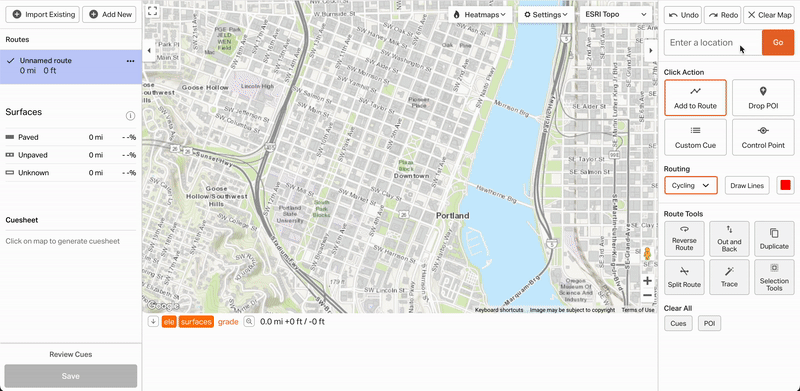 Click the result card to keep the track line on screen as you highlight other items, or use it for reference as you construct your new route. From the selected card, click "Add to planner" to edit the item in the planner, or click "Open" to view it in another window.
Explore Nearby Routes will search for the highest quality routes in the area currently showing on the map. Zoom out to widen your search, or narrow results by zooming in -- pinpoint items passing through a location with Inspect Routes Here. Add multiple routes to the planner to find overlapping sections, or view the Global heatmap to find popular connectors.
Explore Nearby Routes is part of the Advanced Route Planning tools that come with a Premium level membership. Start your free 7-day Premium trial today!