Use the Ride with GPS mobile app for iPhone and Android to record your trip, and save the recording and any geotagged photos to your account for later reference.
---
---
Upgraded members will unlock even more features in the mobile app like Turn-by-Turn Voice Navigation, Mobile Route Planning, Live Logging, and Offline Maps.
One tap and you're off! Open the Ride with GPS mobile app, and press the Record button at the bottom-center of the screen to open the map and begin recording.
The app may take a moment to lock-on to your position as the GPS radio in your phone warms up. Once it is locked, you will see a green banner indicating GPS is ready. Wait to get a solid GPS lock before you start riding. Your current location will show on the map as a blue dot.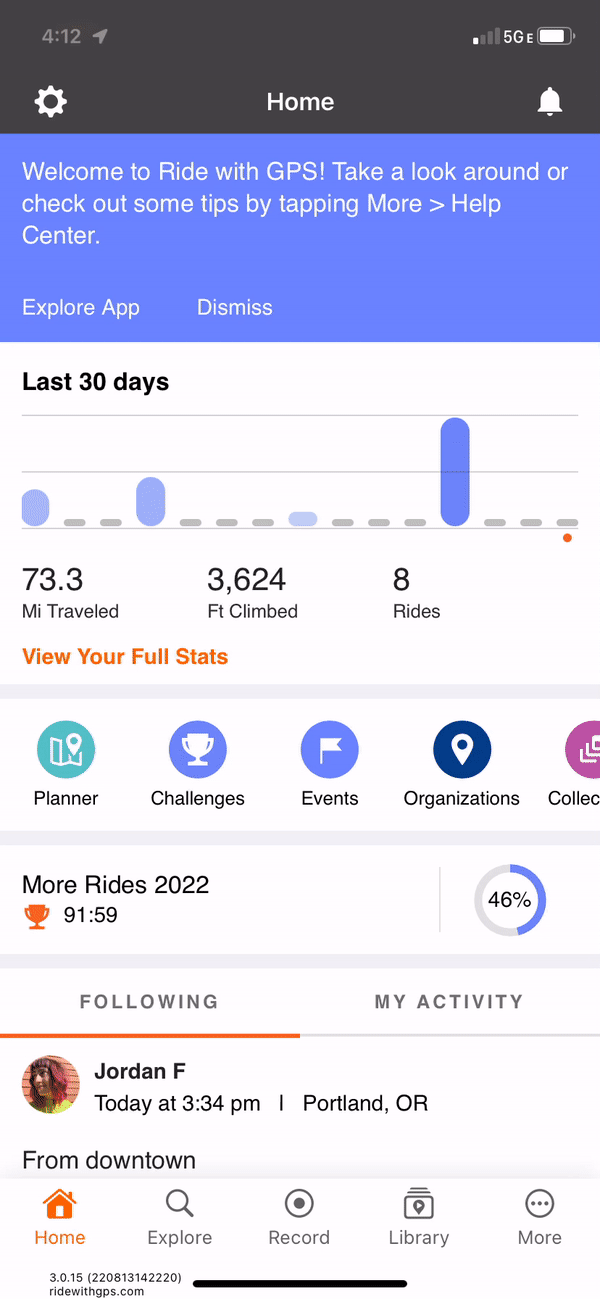 If auto-pause is enabled, you will see a grey
Auto-Paused: Move to Record
banner appear at the top of the screen when you have a GPS lock, rather than the GPS READY banner. Enabling
auto-pause
on your rides will automatically pause your ride when you stop moving for breaks and stops, preventing unwanted recording on your track lined.
Change the metrics that are shown when you ride by pressing and holding a metric that you want to replace. Then choose from the list of available metrics, and see this populate on your dashboard. Swipe right to reveal a second page of metrics. You can also tap the triangle icon on the right hand side of your metrics display to view all top 8 metrics in full screen mode.
Other customizations:
Choose which map type is shown, and what items are overlaid on your map by tapping the layer overlay icon.

Tap the re-center option to move the map back to your current location.

View the map in full screen or zoom in/out to see more or less of the map and recorded track line.
To enable auto-rotate, tap the compass icon on the map. When the compass turns black, auto-rotate will be active, and as you start moving forward, the map will orient itself to your position and heading.
Note: the screen does not rotate based on the orientation of your phone, it rotates based on your direction of movement.
To disable auto-rotate and return to North-Up, tap the compass again.
The metrics view will be selected by default when you start your ride. Tap Tools to access the options listed here:
Share: activate the Live Logging feature and share your location during your ride with others.
Volume: make quick adjustments to the types of alerts you hear while recording as well as adjust your in-app volume.
Settings: manage the auto-pause setting and make quick adjustments to other in-ride Settings.
Add POI: while riding to show a point of interest on your ride recording.
Route Planner: Create a route or edit an existing one while recording your ride.
Press and hold the pause icon at the bottom of the recording screen to reveal two options:
Tap Resume Ride to return to the ride you're currently recording.
Tap Finish Ride when you're ready to end and save your ride.
After tapping Finish Ride, you'll be taken to the ride details screen.
Give your ride a name (if you leave this blank, your ride will be given the current date as a name), add photos, select gear used on the ride, and choose your ride privacy setting.
Tap Save to upload the ride to your account where you can access it from ridewithgps.com or through the app.
Swipe to the bottom of your screen and tap Delete if you do not want to save your ride to your account. Note: you won't be able to recover a ride recording if you delete it before uploading it to your account.
Once a ride is saved to your account, you can view it in the ride summary page, add more photos, share with friends, or use it to write a Ride Report.
Tips & FAQs:
Assign Gear to your ride so you know what bicycles, shoes, or other gear you used for your ride
Check out our Battery saving tips page for more ways to preserve your phone battery during a ride.
Add Photos to your rides to visually share your adventure.
If you don't want others to see your ride, when saving your ride, change "Who can see this ride?" to "Private, Just me".
Use Privacy Zones to hide your home, workplace, or school from the world.
Change Metrics that are shown for a customized experience.