Share your real-time location so friends and family can follow your ride, see your photos, and make encouraging comments. Use Live Logging to meet up with fellow riders on route.
---
---
Upgrade to a Basic or Premium subscription to enable Live Logging in the app. Note: you need cell data service to broadcast your location. If you lose service while live-logging, your ride log will update once you're back in range.
Check out a great example of live-logging here: Live Log Demo!
It's easy to start Live Logging from the Ride with GPS mobile app with just a few taps:
Tap GO RIDE.
Tap Tools.
Tap Share.
Tap Enable Live Logging, and share!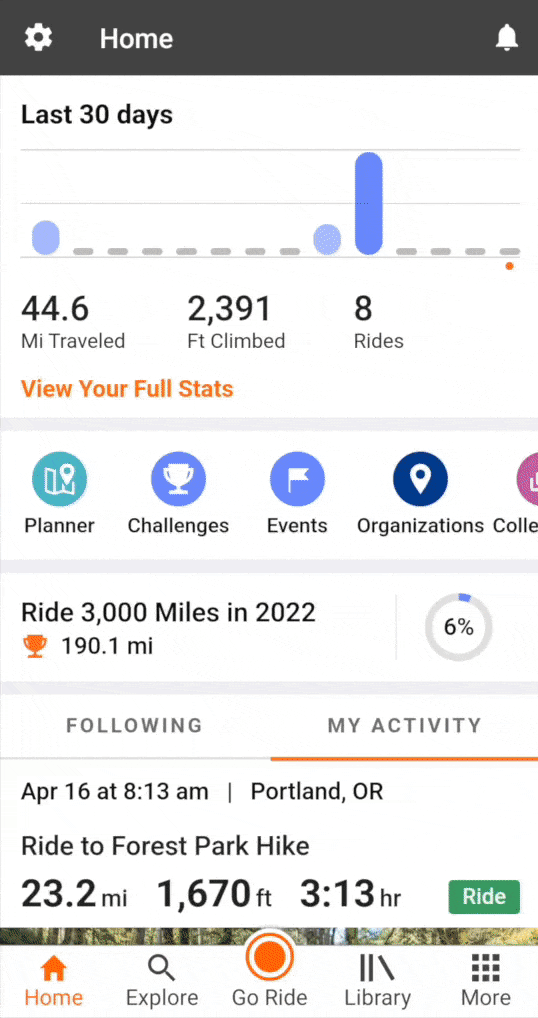 Tap Configure Settings to update your Live Logging settings. Live Logging intervals can be set to every 30 seconds, 1 minute, 2 minutes, 5 minutes, or 10 minutes.
Keep in mind the more frequent the Live Logging, the more battery time it will consume. If you want to conserve battery, change it to 5 or 10 minutes.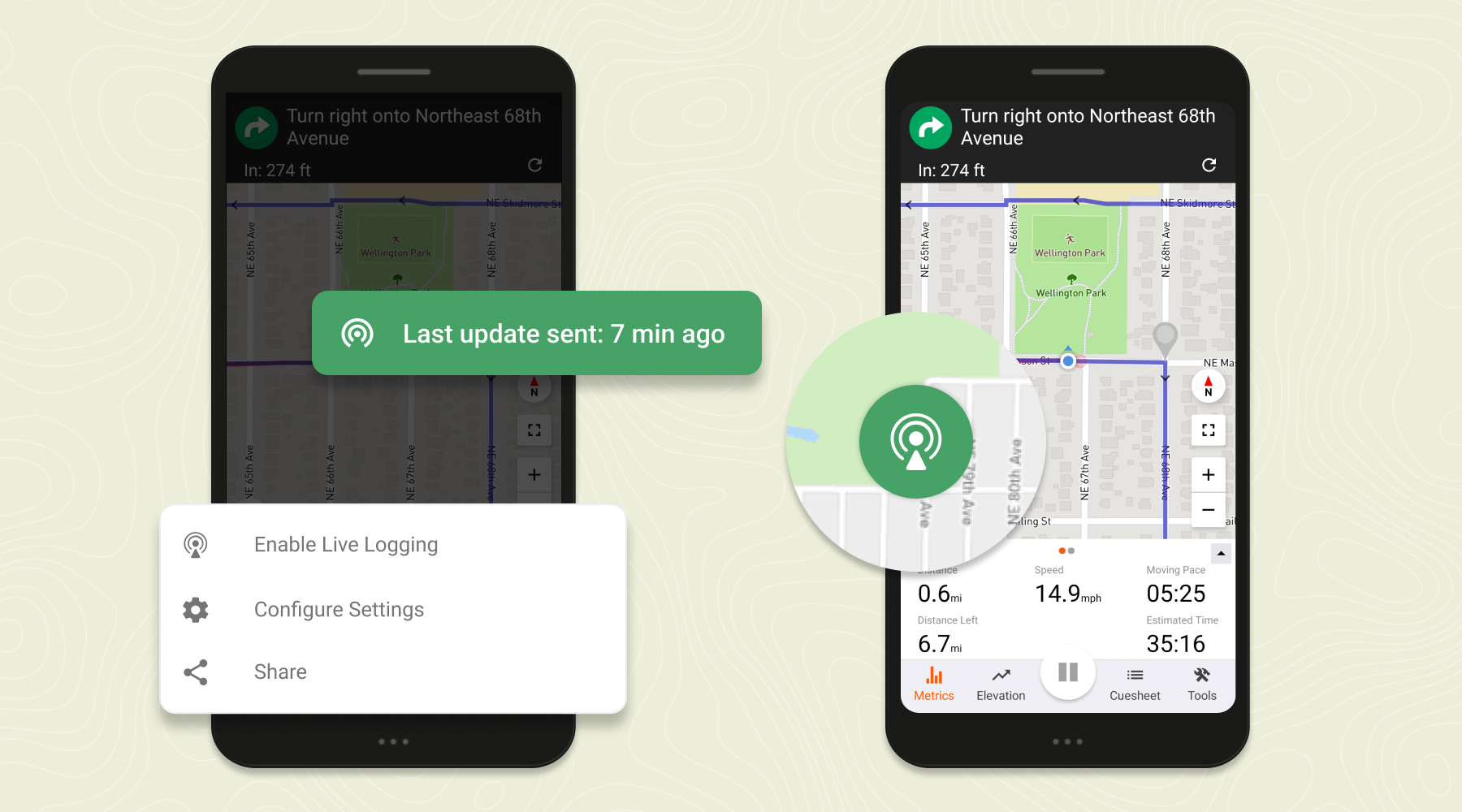 The green antenna icon on the recording screen indicates Live Logging is active. Tap it to disable Live Logging, check your last update sent, configure settings, or to share your ride in progress.
Anyone can view your profile page to see your current location, while your Ride with GPS friends will see you in their Friends feed.
While someone is Live Logging, you can see the track where they have been, and the black dots on the track indicate where they have taken a photo and uploaded to the ride.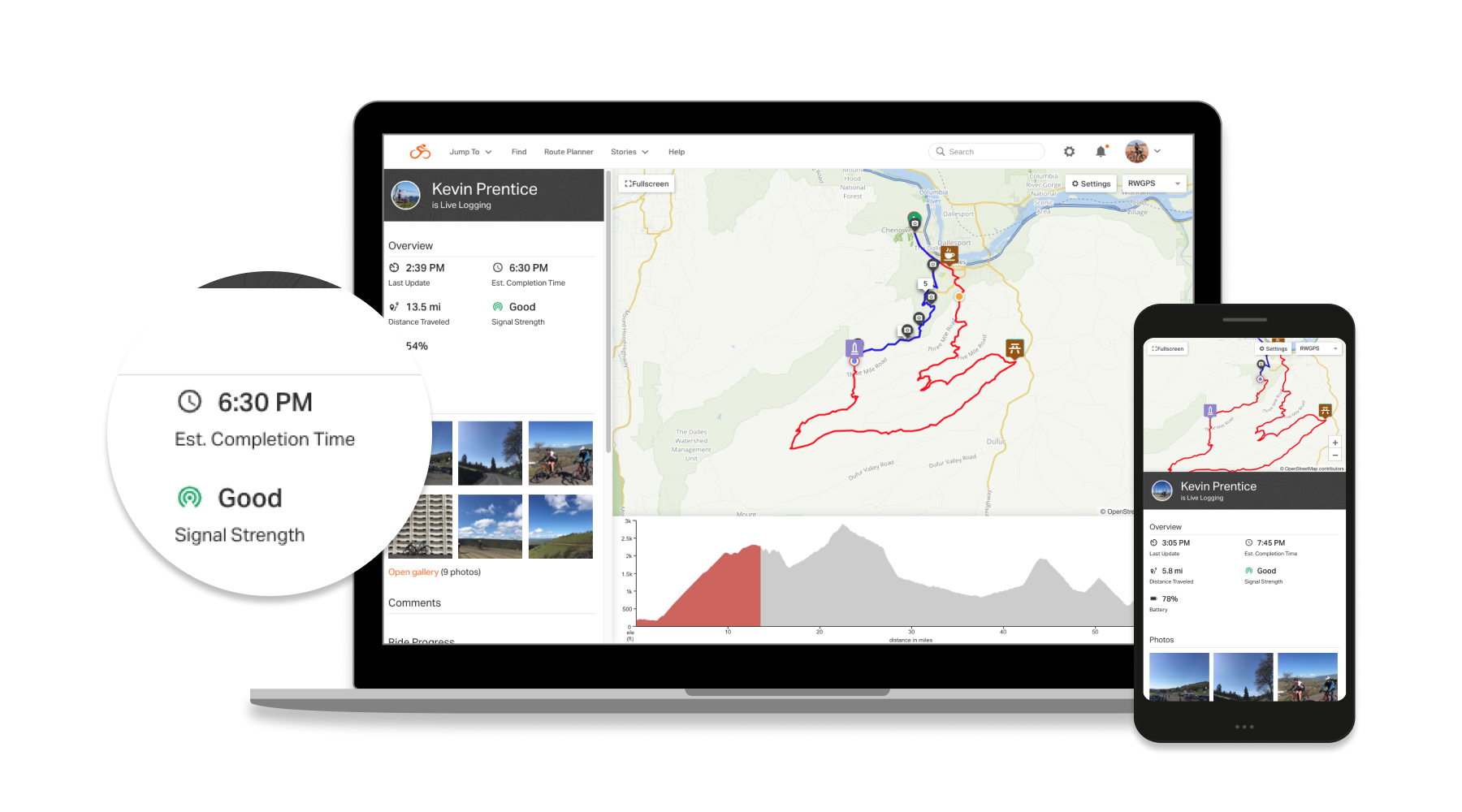 Choose between three privacy settings to decide who can see your ride in progress.
Public - Everyone can see your ride by simply going to your profile page. They don't even have to sign into the website.
Friends Only - Only those accounts you have befriended within the Ride with GPS will be able to see your ride.
Private - Only your account will be able to see your ride in progress. Typically it is a spouse or family member signed in with your account that would view this ride as it happens.
Should the start or end of your ride take place within one of your Privacy Zones, then that part of the ride will remain private regardless of the Live Logging privacy setting.
When you enable the Live Photo Syncing option, any photos you take will be automatically synced to your Live Log and available for viewing on your ride.
Pro Tips:
This feature is available for Basic and Premium level users.
You must have access to cellular network data to transmit your location.
Type a comment on the Live Log page, and that rider will get an announcement on their phone.
Live Logging intervals can be changed in App Settings.
Enable Live Photo Syncing in your app settings so photos get uploaded in real-time and geotagged to their exact location. Disable this feature if you wish to conserve your wireless data.
By default, your Live Log session is viewable to the public.