Discover the best cycling routes near and far through the Ride with GPS mobile app with Mobile Explore, for both iOS and Android. Search routes and rides anywhere on the globe, from gravel backroads and trails to smooth tarmac, Mobile EXPLORE will find the perfect route within your selected search area. Whether you're curious about the Peruvian Cordillera Blanca or simply looking for a ride next door, EXPLORE will help you
find your next great adventure.
---
---
Open the Ride with GPS app and tap EXPLORE tab from your menu options at the bottom of the screen.
When you open EXPLORE, the map will center on your current location or your account's default location. To search, simply pan around the map and zoom in to discover routes. Tap the Search this Area button to reveal the top 10 routes with start locations within your current search window.
If you have location services disabled and do not have a default location set, we'll show you results for our hometown: Portland, Oregon.
* Pro-tip: Toggle on the Global Heatmap in Mobile EXPLORE to find the top routes and the hottest rides in your area.
The EXPLORE map uses a weighted algorithm to surface the highest quality contents in the area you are searching. Quality is based on several factors like having a cuesheet, description, and containing other assets like photos and POI. If any Ambassador or official event routes in the area meet your criteria, they will be surfaced first.
Tap on individual Route tracks to focus on that particular Route.
When selected, a result card pops up at the bottom providing stats for that Route. Each card will contain distance, elevation gain, elevation profile, and surface type percentages for that route.
Swipe left on the result cards to focus in on other routes near your area, each Route card that is in focus will display the route on the map view highlighted in red with other routes in that search area outlined in grey.
Tapping on the route name within the card will open a full preview to the Route; from this page you can Save for Offline, Pin your route, or Share it with your riding partners.
Not seeing a route on the first 10 matches? Swipe to the end of the cards and tap the right arrow to pull up the next 10 results. Repeat as needed until you find the perfect route.
Tap the search bar and enter in locations or keywords to find the best content matching your desired search terms.
Tap NEARBY to activate your GPS sensor to find routes near your real-time location.
Tap HOME to search for routes near your default home location set on your Ride with GPS account.
Previous text-based searches will remain in your search history, tap the X next to previous search items if you want this cleared from the queue.
Don't see your desired result in ALL? Tap PLACES or ROUTES if you want to narrow down your results based on keyword or a location, or specify you are looking for Route names.
Use
Length
,
Elevation
,
Surfaces
, and
Route type
filters to further refine your EXPLORE results.
Tap Elevation or Length to adjust minimum and maximum distances and amount of climbing for route results.
Surfaces will let you drill down on a handful of paved and unpaved options.

Mostly paved =

2-15% unpaved

Mixed surfaces =

15-60% unpaved

Mostly unpaved =

60-95% unpaved

Unpaved =

95-100% unpaved

Route type offers Loop, Out and back, or Point to point choices.
Tap Save within each filter to pull up results. Your saved filters will display in orange on the selected filter when viewing the EXPLORE Page.
Tap the Location Button in the lower left corner to activate your GPS sensor and have EXPLORE find routes nearby.
Press and hold anywhere on the EXPLORE map.

Expand the results cards at the bottom of the screen, or tap any of the routes on the map to find out more information about it.

Your Inspect point location marker shows up on the map, and Inspect point coordinates appear at the bottom on the results cards.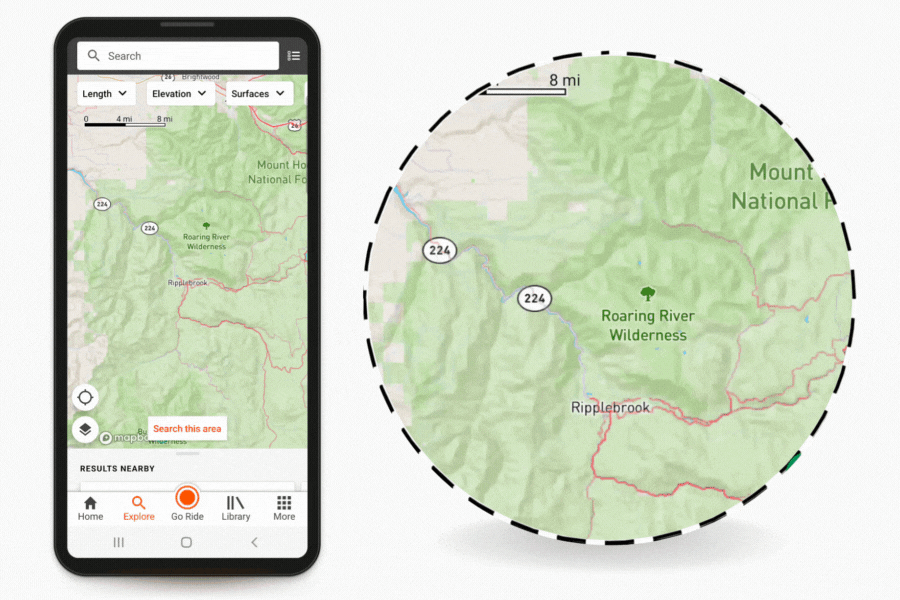 Unlock the Inspect tool with an upgraded membership.
The default view for EXPLORE is a Map View, however tapping the List icon in the upper right corner will allow you to sort through results in a List view.
The results on the list view are identical to the map view.
Tapping on any item within the list view will bring you to the full preview of the Route.
In order to find results, you will need to have access to WiFi or Cellular Data.
You do not need location services enabled to pan around the map or use the search field. However to utilize your current location as the search term, location services must be enabled
Routes and Rides will both show in EXPLORE results, however we will prioritize Routes for ease of navigation.