Ambassador routes are distinguished from all the other routes in part by the additional space given to their descriptions, and the ability to separate your description into sections with titles. Make sure to take advantage of this by organizing your description into meaningful sections that cover the details a rider needs to know to have a great time.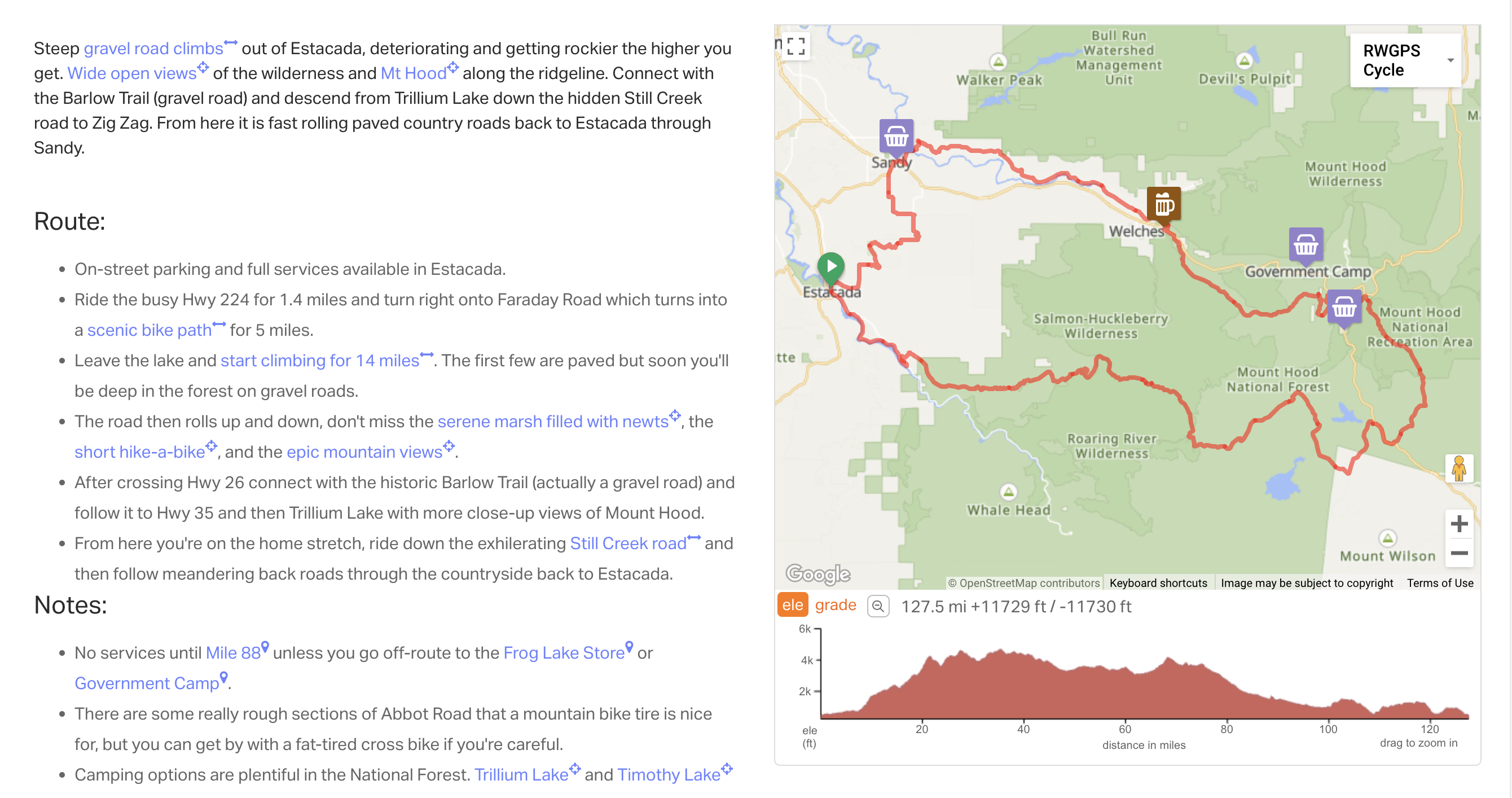 ---
Start with the sales pitch.
Most riders are considering several routes, and the first thing they read is the overview and it should focus on the highlights and important details to help them make the right choice.
Following this, help the rider understand what to expect, how to prepare, and any historical or local significance the route may have. Use your route description to let readers know what to expect on your route. Inform them about services, hazards, and point out features such as scenery, good food, or recommended camping spots using route reference tools. There is an art to striking the right balance between too much and too little detail.
Take a look at some of the routes on Limberlost for inspiration.
---
Choose a template.
When you first click on the template of your choice, template text will appear in the text boxes. This is to give you an idea of how the text and formatting appear, and to provide suggestions on how to structure your description.
Choose from three templates to help you get started:
Bulleted- walks riders through the route and provides course notes using bulleted lists. This style is great for very long routes where a narrative might be hard to read, or routes with a lot of notes
Hybrid- combines the bulleted and narrative styles; recommended. This template uses both narrative and bulleted lists. You can write a narrative description of your route and then highlight features using a bulleted list.
Narrative- largely unformatted narrative template. This is great if you are a strong writer and have a story to tell about your route.
Once you select a template, you'll be directed to a screen with two text boxes.
The Markdown box on the left is where you will enter and format your route description. The box on the right shows a preview of how your text will appear when submitted.
Above the Markdown box are formatting tools that allow you to create headings, lists with numbers or bullets, or links. You can also bold or italicize your text.
Next to the formatting tools is the route reference toolbar. This allows you to create route references, linking your route descriptions directly to POIs, specific points on or sections of your route, or photos. Click to learn more about using route reference tools.