Use Map and List View to quickly find your recorded ride data. Whether you've recorded in the mobile app, used a third party head unit, or uploaded a file -- your rides are easily located on the web using the interactive map. Search by keywords, use start locations, or flip through in-ride photos to filter your results.
---
---
When a ride is more than just a ride, tell a better story by adding Points of Interest (POI) and geotagged photos using Ride with GPS features in mobile app and on the website.
Open ridewithgps.com on the web, log into your account, and click the Rides option from the left side panel or go directly to https://ridewithgps.com/rides.
The page will default to a List View of your ride library. Filter, Sort, and Search to narrow your results. Then expand ride details using the caret icon to display more information about the activity.
Premium members can utilize bulk management tools to adjust privacy settings, add rides to a Collection, or delete selected items from the Rides page by using the checkboxes.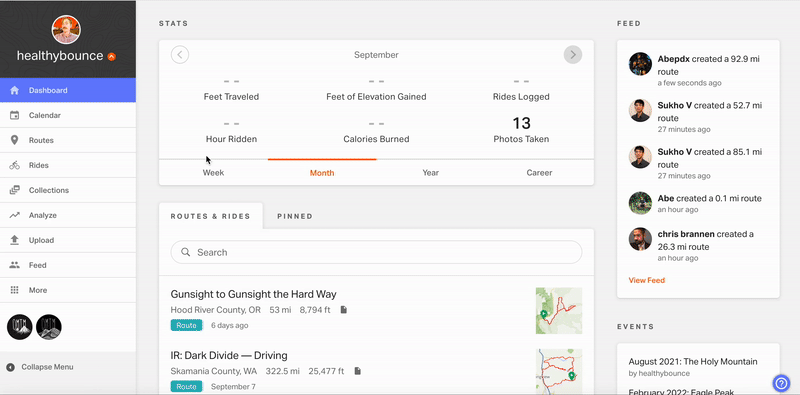 Toggle the Show Map button in the upper right corner of your rides list for a dynamic map view of your ride library. The map will open to the location of your last recorded ride. Filter settings entered in List View will carry over to the Map View.
Show Photos is on for everyone by default. If you have photos taken during a ride (with location data enabled), you'll see a corresponding camera icon along the ride in the location where you took the snap. You can click on the camera to flip through all photos taken on the ride. This is a great way to reminisce on a fantastic ride. Practically, this can also help you plan new rides to revisit memorable spots that you may not have been able to find again otherwise, or avoid poor trail conditions in future.
Don't want to see photos on your ride history? Just uncheck the box next to Show Photos.
Personal Heatmap overlay is enabled in Map View by default for Premium members. Your Personal Heatmap can provide an additional visual reference for your historical ride data.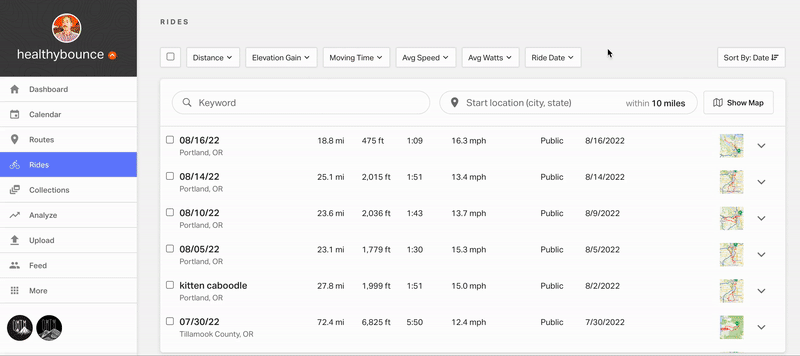 On the map, you'll see green interactive start icons indicating single rides and numbered clusters representing multiple rides that start from each marked location. Hover over individual start icons (green arrow markers) to highlight each corresponding ride track in red, or quickly find any recorded ride or group of rides by panning and zooming around the map to any of the start icons.
The numerical clusters represent the number of rides using a common start point. Click on each cluster for a display card of all the rides contained within. As with individual start icons, hovering over each result within the card will illuminate its corresponding ride on the map.
Premium members have access to the Inspect tool, which allows point-based searching to identify rides which pass through a specific point. Using your Personal Heatmap for reference, click anywhere on the map to Inspect all of your recorded rides intersecting that specified point. The radius of the Inspect tool will be determined by zoom level within the map.
Click any of the resulting ride cards to see the trackline on the map, or click View Ride to be directed to the corresponding ride page with additional details.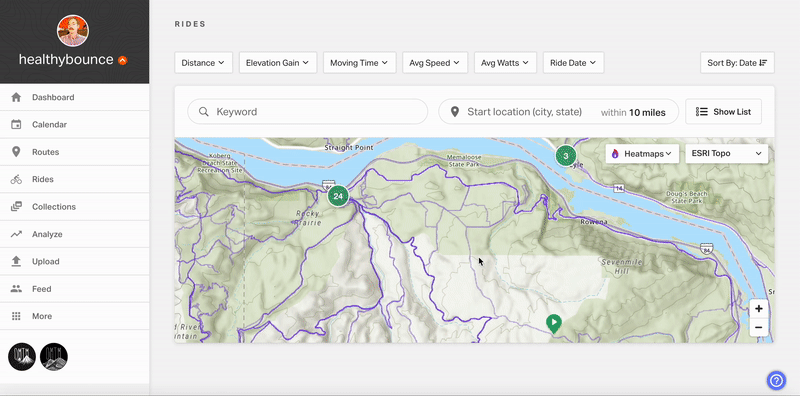 Tips
To enable Map View, toggle the Show Map button in the upper right corner of your Rides list.

Do you have photos that are showing up on the map that you would expect to see? Rest assured we are currently working on this. Photos that do not contain EXIF (location) information are not currently appearing on the map, but we are working to make as many of these appear on your map views as possible. Additionally, certain photo formats such as HEIC (which is commonly used by iOS devices) are hard to preserve location info for, so we are working on these as well.

Want to turn on Map View in your routes? You can! Check out Explore your Routes for more.
Filters set on List View will carry over to Map View, and vice-versa.
Use city and state/province names to search specific locations.
The numerical cluster icons on the map represent the number of rides using a common start point.
Start locations for individual rides are marked on the map using the green arrow icons.
Any ride that you have marked as a stationary ride will not be included in the map view.
Inspect search radius changes as you zoom in (gets smaller) and out (gets larger). We cap the zoom radius at ~ 1mi.
Missing an epically long journey from your ride map? Rides over 2000 miles (about 3219 KM) will not post to your Map View. You can use our ride clean up tools to break a ride into smaller portions. Pro tip: download a copy of your route as a TCX history file first so you can keep a complete, unedited ride file as a backup.