You can get a GPS file from anywhere – someone might text, email, or message you a file; you might download it from an event website or export it from another app. There are any number of ways to come across a file. Now, you can Import that file directly to your account – right from your phone!
---
---
Save files that have timestamps as recorded rides, or save any file as a planned route. Learn about the difference between the two here.
Easily Import files using the Ride with GPS mobile app.
Open the file you want to Import,
Tap the

Share feature (from your OS),

Choose the Ride with GPS mobile app as the destination.

Follow the prompts to save the file to your Ride History or to your Route Library, and BOOM! It's in your account -- view it, edit it, or Pin it.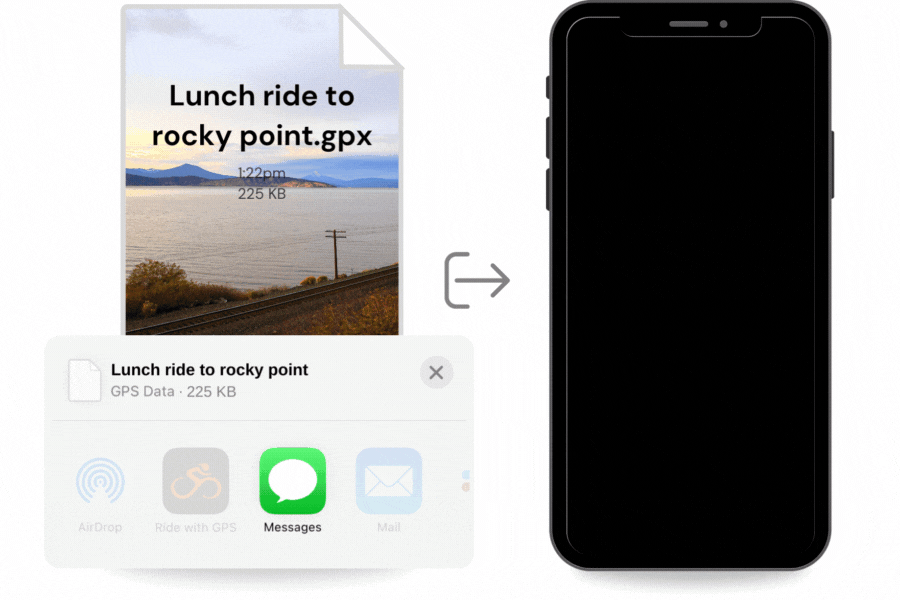 Files imported to your account can be saved as recorded rides, if they contain a timestamp (and will be added to your Personal Heatmap); or saved to your library as a navigable route.
FAQ:
Q: What file formats are supported?
A: GPX, TCX, FIT, KML files can all be Imported.
Q: I've saved my GPS file to my phone and now I can't find it. Help!
A: For iOS (iPhone) users, downloaded items will be found in your Files app. Similarly, on Android, items saved to your device will live in either your Files or My Files apps, depending on manufacturer and model.
Q: I've tapped to share the GPS file and I'm not seeing the Ride with GPS app as an option in my phone's Share menu.
A: You can manually search for the Ride with GPS app using the More (three dot) button at the right side your phone's share menu app selection.

Q: Can I do this on the Ride with GPS website?
A: Yes you can! Either Upload the files to your account, or Import them directly into the Route Planner.