Upload GPS files from your computer, email, Garmin or Wahoo GPS device. However you choose to connect, you can easily upload and sync GPX, TCX, KML, KMZ, or FIT files wirelessly or manually to your Ride with GPS account.
---
---
Upload ride and route files to the Ride with GPS web dashboard. Anything added here will automatically be synced to your account and will be fully accessible on your mobile device.
Select Upload from the left hand toolbar on your Ride with GPS homescreen.
The Select Files button will bring up a browser window, allowing selection of GPS files from your computer.
Select the files you wish to upload: GPX, TCX, KML, KMZ, or FIT files are all accepted. Multiple files can be selected by holding Control (Windows) or Command (OS X) and clicking on multiple files.
Hit OK to begin the upload.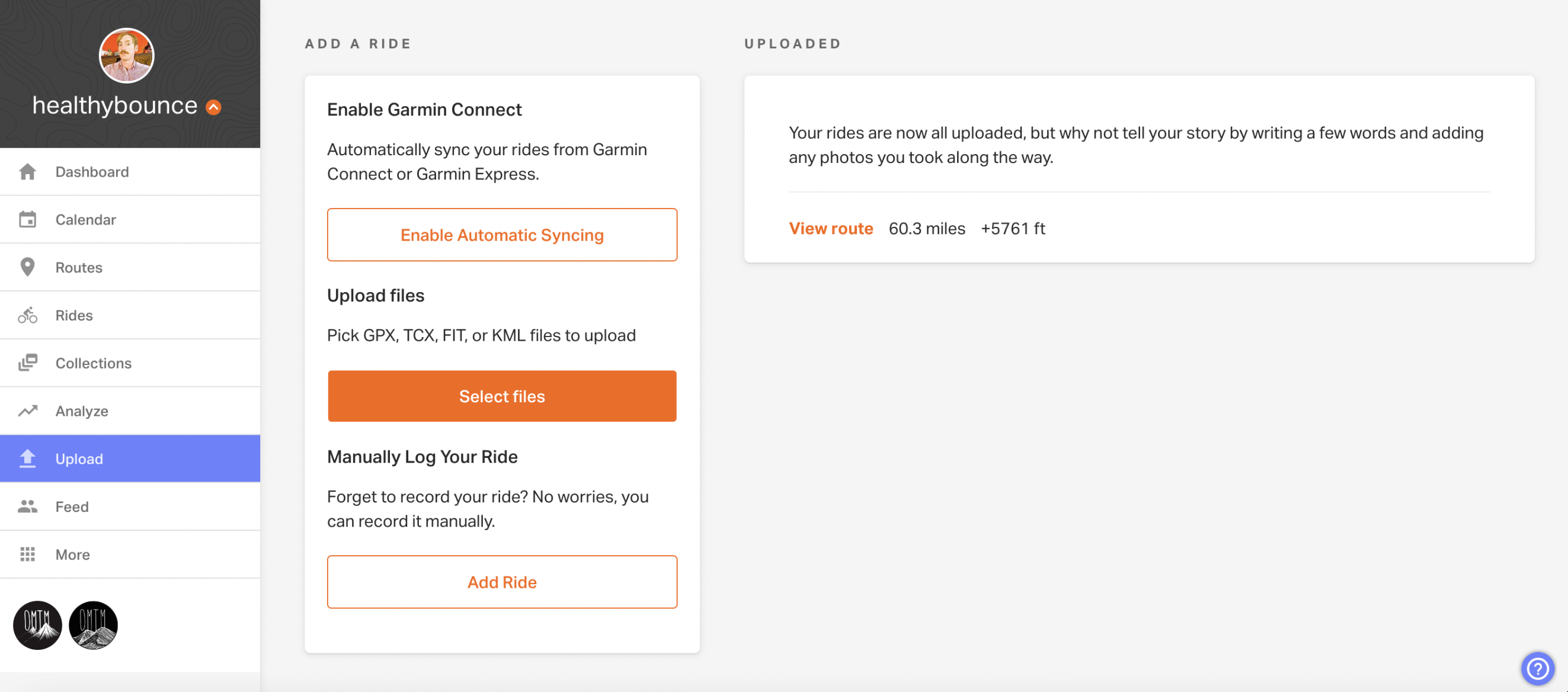 Email your selected GPS file as an attachment to UPLOAD@RIDEWITHGPS.COM from your Ride with GPS login email, and it will sync it to your account for access on the web and mobile app.
For Garmin Edge devices, learn more about using Auto Sync with Garmin Connect to automatically send ride and route files between your device and your Ride with GPS account.
Once Ride with GPS is authorized to sync with your Wahoo ELEMNT device, recorded ride data will automatically upload to your Ride with GPS account and display under Rides in your feed. For a deeper dive into the Wahoo sync process, visit our Wahoo help page.
Connect your device to your computer via USB cable.
Once device is recognized, select Upload at the top of the Ride with GPS website.
Click on the Select Files button.
Browse to the following path on the Garmin drive or volume: Garmin (volume or drive model number) > Garmin > Activities.
Note: if you have saved the track on the device, it can be found under the Archive folder. If you have just finished the ride but have not saved the track, select the file that starts with Current.
Forget to record your ride within the app or leave your GPS at home? You can always log your ride manually after the fact.
Log into your account at www.ridewithgps.com.
Select Upload from the main menu on the left side of your screen.
Click Add Ride under Manually Log Your Ride on the bottom-left side of the screen.
Fill in the details of your ride:

If your ride had an associated route, be sure to add it so that you'll have a map to show with your ride (even if you don't have full metrics).

Click Save to complete your manual ride log.
If you want to include a visible map track of your ride that didn't get recorded:
Log into your account at www.ridewithgps.com.
Click Route Planner at the top of your screen, and recreate the route you rode.
Click Save in the lower left corner of the route planner. Then, scroll down and click Show More Options at the bottom of the save dialog box.
At the bottom of the expanded save form, look for Record this as a Trip and select YES.
Enter additional ride details and metrics.
Click Save at the very bottom of the window to log your ride.